Unemployment Compensation Fraud
Alabama Unemployment Compensation Fraud Poster
The Unemployment Compensation Fraud is an Alabama unemployment law poster provided for businesses by the Alabama Department Of Labor. This is an optional notification, so while it is recommended that businesses hang this poster if relevant to their employees, it is not required by the Department Of Labor.
The Unemployment Compensation Fraud Poster is a detailed list of descriptions on what actions constitute unemployment compensation fraud. The poster includes several examples explaining why this is a crime and what the penalties are.
UNEMPLOYMENT 
COMPENSATION  FRAUD  
IS  A CRIME  	
 
Some examples of fraud include: 
     Making  false statements to obtain unemployment  compensation 
       Attempting to draw benefits while working 
      Continuing  to file a claim after returning to  work         
      Being  paid "under the table" while collecting unemployment 
                             compensation 
     Not being truthful when filing your initial or weekly claims 
          FRAUD IS                                        STEALING ! 	
FRAUD  PENALTIES ARE  SEVERE 	
 	
        Up to a Class B Felony  
         Fines of up to $500 AND  up to 12 months in jail 
               for each fraudulent week claimed                           
         Mandatory ineligibility for up to a two year period 
      	
 
 
To report fraud call 
800- 392-8019 	
Penalties  noted above subject to Section 25- 4-145  Code of Alabama (1975)  
I SEC
 
POSTER -
1 
CAT#52405
---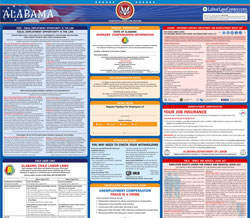 Instead of printing out pages of mandatory Alabama and Federal labor law posters, you can purchase a professional, laminated all-in-one labor law poster that guarantees compliance with all Alabama and federal posting requirements. Fully updated for September 2017!
Get All-In-One Poster Now
More Alabama Labor Law Posters 12 PDFS
Minimum-Wage.org provides an additional eleven required and optional Alabama labor law posters that may be relevant to your business. Be sure to also print and post all required state labor law posters, as well as all of the mandatory federal labor law posters.

List of all 12 Alabama labor law posters
---
Alabama Labor Law Poster Sources:
Labor Poster Disclaimer:
While Minimum-Wage.org does our best to keep our list of Alabama labor law posters updated and complete, we provide this free resource as-is and cannot be held liable for errors or omissions. If the poster on this page is out-of-date or not working, please send us a message and we will fix it ASAP.