Notice To Employees - Unemployment Insurance Benefits
California Notice To Employees - Unemployment Insurance Benefits
Mandatory
The Notice To Employees - Unemployment Insurance Benefits is a California unemployment law poster provided for businesses by the California Department Of Industrial Relations. This is a required poster for all California employers, and any business that fails to post this notification may be subject to penalties or fines.
NOTICE TO EMPLOYEES	
UNEMPLOYMENT INSURANCE BENEFITS	
You 	may be eligible to receive Unemployment Insurance benefits if you are:
• 	Unemployed or working less than full-time.	
                    and	
• 	Out of work due to no fault of your own and physically able to work, rea\
dy to accept work, and looking for work.	
This employer is registered under the California Unemployment Insurance \
Code and is reporting wage credits to the Employment 
Development Department (EDD) that are being accumulated for you to be used as a basis for Unemployment Insurance benefits.
DE 1857D Rev. 19 (7-18) 	(INTERNET)	 Page 1 of 1	
Employees of Educational Institutions:	
Unemployment Insurance benefits based on wages earned while employed by a public or nonprofit educational institution may not 
be paid during a school recess period if the employee has reasonable ass\
urance of returning to work at the end of the recess period 
(California Unemployment Insurance Code section 1253.3). Benefits based on other covered employment may be payable during 
recess periods if the unemployed individual is in all other respects eli\
gible, and the wages earned in other covered employment are 
sufficient to establish an Unemployment Insurance claim after excluding wages earned from a public or nonprofit educational institution(s).	
 Note: Some employees may be exempt from Unemployment and Disability Insurance coverage.	
CU	  	
The fastest way to file for Unemployment Insurance (UI) is with UI Online at www .edd.ca.gov/UI_Online	.	
You may also file for Unemployment Insurance by calling toll-free from anywhere in the U.S. at:	
 	English  1-800-300-5616  Mandarin  1-866-303-0706	
  Spanish  1-800-326-8937  Vietnamese  1-800-547-2058
  Cantonese  1-800-547-3506  TTY  1-800-815-9387	
Note:  Waiting to file a claim could delay benefits.	
EDD representatives are available Monday through Friday between 8 a.m. and 12 noon (Pacific  Time).
---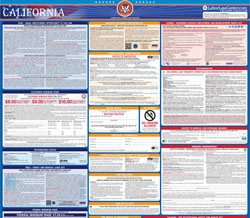 Instead of printing out pages of mandatory California and Federal labor law posters, you can purchase a professional, laminated all-in-one labor law poster that guarantees compliance with all California and federal posting requirements. Fully updated for August 2017!
Get All-In-One Poster Now
More California Labor Law Posters 34 PDFS
Minimum-Wage.org provides an additional 33 required and optional California labor law posters that may be relevant to your business. Be sure to also print and post all required state labor law posters, as well as all of the mandatory federal labor law posters.

List of all 34 California labor law posters
---
California Labor Law Poster Sources:
Labor Poster Disclaimer:
While Minimum-Wage.org does our best to keep our list of California labor law posters updated and complete, we provide this free resource as-is and cannot be held liable for errors or omissions. If the poster on this page is out-of-date or not working, please send us a message and we will fix it ASAP.