Access to Medical and Exposure Records
California Access to Medical and Exposure Records Poster
The Access to Medical and Exposure Records is a California job safety law poster provided for businesses by the California Department Of Industrial Relations. This notification is required for some employers, such as all businesses using hazardous or toxic substances.
This mandatory poster, available in English and Spanish is a fill-in posting that includes the rights of employees guarantees under Order 3204. It includes the rights to see and copy any medical records of exposure to toxic substances and includes the location and person where the records are kept.
ACC ESS T O MED ICAL
 
A N D E X PO SU RE R EC ORD S
 	
 
 	
BY  C AL/ OSH A 	RE GULA TI ON	 
-  G ENE RAL I NDUS TRY  S AFET Y ORDER  3204 	
- 	
YO U H AVE  THE  R IG HT  T O  SEE  A ND  	CO PY :	 
 	
 	
•   	You r med ical  r e c o rd s a n d r e c o rd s o f ex posu re  to  to xic 
s ub sta nces  o r h arm fu l p h ys ical  a g en ts . 	
 
•   	R eco rd s o f ex posu re  to  to xic  s ub sta n ce s o r h arm fu l 
p h ys ical  a g en ts  o f o th er e m pl oyees  w ith  w ork  
c ondi tion s sim ila r t o  y ou rs . 	
 
•   	Sa fety  D ata  S heets  (SDS)  or o th er info rma tion t hat 
exi sts  fo r c h em ical s o r s ub sta nces  u sed  i n  t h e 
w ork p lace,  o r w hi ch  emp lo yees  m ay b e e x po sed . 	
 
 
 
THESE	 RECO RDS	 ARE	 AVA IL AB LE	 A T:	      	
(Lo cat ion	) 	
 
 
 
FR OM :	      	
(Perso n Re spon sibl e) 	 
A  C O PY  OF T HE  G ENE RAL I NDUS TRY  S A FET Y ORDER  3204 
IS	 A VA IL A B LE	 FR OM :	      	
 
 
 
 
 
 	
T
he a bov e i n fo rma tio n s atis fie s  t h e r e q uir e m en ts  o f G IS O  320 4 ( g) , w hic h  m ay b e fulfilled  
by  pos tin g  t h is  p laca rd  in  t h e w ork p lace , o r b y a n y s im ila r m eth o d t h e e m plo ye r c h oo ses . 	  
 
 
 
 	
 January  2015   St
ate  o f C alif o rn ia   
D ep artm en t  of  Indu str ia l  R ela ti ons   
Division  of Occupational Safety and Health  
1515 Clay Street, Suite 1901   
Oakland, CA 94612   
Phone: (510) 286- 7000  
Fax: (510) 286- 7037 	
 	www .d ir .c a.gov	 	
www.dir.ca.gov/dosh/dosh1.html
---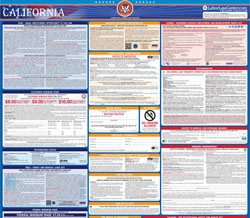 Instead of printing out pages of mandatory California and Federal labor law posters, you can purchase a professional, laminated all-in-one labor law poster that guarantees compliance with all California and federal posting requirements. Fully updated for January 2017!
Get All-In-One Poster Now
More California Labor Law Posters 34 PDFS
Minimum-Wage.org provides an additional 33 required and optional California labor law posters that may be relevant to your business. Be sure to also print and post all required state labor law posters, as well as all of the mandatory federal labor law posters.

List of all 34 California labor law posters
---
California Labor Law Poster Sources:
Labor Poster Disclaimer:
While Minimum-Wage.org does our best to keep our list of California labor law posters updated and complete, we provide this free resource as-is and cannot be held liable for errors or omissions. If the poster on this page is out-of-date or not working, please send us a message and we will fix it ASAP.