Arkansas Labor Law Posters
Arkansas — Free Required & Optional Labor Law Posters
The Arkansas Department Of Labor provides a number of mandatory and optional labor law posters for all Arkansas businesses with employees to prominently post in the workplace. These posters are meant to educate employees on a variety of labor law topics topics such as the minimum wage, occupational health & safety, and other important labor laws. Minimum-Wage.org provides all of Arkansas' mandatory and optional labor law posters on this page, to download or print free of charge.
All six required state labor law posters can be printed out at your convenience on the Arkansas Department of Labor website, http://www.labor.arkansas.gov/required-postings-for-Arkansas-employers. Any posters not available for download may be requested via address provided on website. Arkansas has readily combined many of the posters together into one larger poster as well.
Required Arkansas Labor Law Posters 1 PDF
The Arkansas Department Of Labor requires that these one mandatory labor law posters be diaplayed by all employers in an easily-viewed area in the workplace. Most businesses in Arkansas will also need to print and post the Federal Department of Labor's mandatory labor posters in addition to these state posters.
In Arkansas, the following posters must be displayed in all workplaces: Notice to Employer and Employee, Equal Employment Opportunity, Notice to Employees, Unemployment Claim, Public Employees' Chemical Right to Know Act, and Human Trafficking Poster.
| Poster Class | Poster Name | Poster Description |
| --- | --- | --- |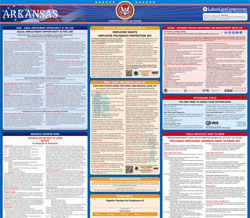 Instead of printing out pages of mandatory Arkansas and Federal labor law posters, you can purchase a professional, laminated all-in-one labor law poster that guarantees compliance with all Arkansas and federal posting requirements. Fully updated for September 2017!
Get All-In-One Poster Now
Optional Arkansas Labor Law Posters 6 PDFS
Arkansas provides an additional six labor law posters that are either optional to post, or mandatory only for certain types of employer. Check this list carefully to see if any of these labor posters are relevant to your business.
Poster Class
Poster Name
Who Must Post
Poster Description
Job Safety Law
Public Employees Chemical Right to Know Act
All State, County and Municipal Employers
Arkansas Chemical Right to Know Act poster that contains information on training public employees on dealing with hazardous chemicals.
Human Trafficking Law


Bilingual

Human Trafficking Poster (Bilingual)
Employers of places that have been cited as a public nuisance for prostitution, strip clubs or other sexually oriented businesses, privates clubs that have a liquor permit for on-premises consumption and does not hold itself out to be a food service establishments, airports, train stations that serve passengers, bus stations, privately owned and operated facilities that provide food, fuel, shower or other sanitary facilities, and overnight parking.
The poster is presented in both English and Spanish, containing law on Human Trafficking for the state Arkansas.
General Labor Law Poster
Notice to Employer and Employee
Employers with 4+ employees
Contains set of ordinances from the Arkansas Department of Labor. Information includes Minimum Wage, Handicapped workers, keeping records, child labor and penalties among other things.
Food Service
No Bare-Hand Contact - Glove Use
Optional
Guidelines on Bare Hand Contact for food establishment employees.
Food Service
Employee Hand-Washing Notice
Food establishments
Handwashing notice for Arkansas employees.
Food Service
Employee Reporting Requirements & Handwashing
Optional
Handwashing poster with additional reporting requirements of any possible foodborne illness symptoms.
| Poster Class | Poster Name | Who Must Post | Poster Description |
| --- | --- | --- | --- |
---
Once you have printed all needed Arkansas labor law posters, be sure to visit the free federal labor law posters page to ensure that you also acquire all mandatory Federal posters in order to comply with Department of Labor's mandatory posting laws.
Disclaimer: While Minimum-Wage.org does our best to keep this list of Arkansas labor law postings up to date and complete, we cannot be held liable for errors or omissions. Is a Arkansas labor poster on this page missing or out-of-date? Please let us know here so we can fix it!
Arkansas Labor Law Poster Sources: