Job Safety and Health (Spanish)
Illinois Job Safety and Health (Spanish) Poster
The Job Safety and Health (Spanish) is an Illinois job safety law poster provided for businesses by the Illinois Department Of Labor. This notification is required for some employers, such as public sector employers.
This Spanish language poster contains information on the employee and employer rights with job safety and health. It is a simpler version of the mandatory OSHA poster provided by the federal government.
Poster PDF

Spanish Language Poster

Required for Some

Job Safety Law
LABORLABORLABOR
Illinois Department of	
La Ley de Seguridad y Salud Ocupacional de Illinois (título 820, sec\
ción 219 de las Leyes Recopiladas de Illinois [Illinois Compiled Statutes, ILCS]) proporciona seguridad laboral y protección a \
la salud 
a los empleados de los organismos locales y estatales. El Plan Estatal d\
e Illinois es un plan de desarrollo parcialmente financiado por un subsidio federal. Cualquier inquietud en cuanto a la administ\
ración 
del Plan Estatal de Illinois puede remitirla a la oficina regional V d\
e OSHA: Federal Building, 230 South Dearborn Street, Room 3244, Chicago, IL 60604. Número de teléfono: 312-353-2220.
El Plan de Gobierno Estatal y Local 23 (g) se financia con un subsidio federal que representa el cincuenta por ciento de todo el presupuesto. El cincuenta por ciento se  financia con fondos del Estado.	
Publicación obligatoria para los empleadores de los gobiernos estatales y locales	
EMPLEADOS: 
•Tienen el derecho a un lugar de trabajo seguro.
 
• Tienen el derecho a decir algo a su empleador
sobre preocupaciones de seguridad o salud, o de
manera confidencial con la Administración de
Seguridad y Salud Ocupacional de Illinois (Illinois
Occupational Safety and Health Administration,
IL-OSHA).
• Tienen el derecho de pedir una inspección a IL-OSHA
si creen que hay condiciones inseguras o insalubres.
• Tienen el derecho a participar en la inspección de
I L

-OSHA y hablar en privado con el inspector.
• Tienen el derecho a ver las citaciones que IL-OSHA
emita a su empleador.
• Deben de cumplir con todas las normas de la ley de
IL-OSHA que se aplican sobre su conducta y acciones
en el trabajo.
• Pueden presentar una queja ante IL-OSHA en un
plazo de 30 días si han sido víctima de represalias por
haber ejercido sus derechos según la ley.
• Tiene derecho a recibir copias de su historia médica y
registros de su exposición a sustancias o condiciones
tóxicas o nocivas.	
EMPLEADORES: 
•	Deben de proveer a los empleados un lugar de trabajo
libre de peligros reconocidos.	
•	Deben de cumplir con todas las normas aplicables de
acuerdo la ley de IL-OSHA.	
•	Deben de colocar este anuncio de manera visible en el
lugar de trabajo, además de todas las notificaciones y
las correspondencias oficiales que reciban de IL-OSHA.	
•	Deben de colocar las citaciones que emita IL-OSHA en el
lugar o cerca del lugar de la violación alegada.	
•	Deben de solucionar los peligros en el área de trabajo
para la fecha que se indica en la citación y deben de
certificar que se redujeron los riesgos.	
•	Deben de mantener un registro de todas las lesiones o
enfermedades que se encuentren relacionadas con el
trabajo. Los empleadores deben publicar el resumen del
año previo (OSHA 300A) desde el 1º de febrero hasta el
30 de abril.	
•	REQUISITOS DE NOTIFICACIÓN: Los empleadores deben
informar de manera verbalmente cualquier hecho fatal
relacionado con el trabajo dentro las siguientes 8 horas
y cualquier hospitalización, amputación o pérdida de un
ojo dentro las siguientes 24 horas llamando a 217-782-7860.
Esta es una línea directa que se encuentra disponible las
24 horas, los 7 días de la semana.	
Seguridad y Salud en el Trabajo	
!SON UN DERECHO!	
Printed by the Authority of the State of Illinois.    7/20   500 copies    IOCI 21-039	
Estado de Illinois 
Departamento del Trabajo	
www. Illinois.gov/idol 
160 N. LaSalle Street, C-1300 
Chicago, IL 60601 (312) 793-7308
(312) 793-2081 fax [email protected]	
Servicios de consultas gratuitos de seguridad y salud [email protected] 
524 South 2nd, Suite 400 Springfield, IL 62701   (217) 782-9386
www.osha.illinois.gov	
 
524 South 2nd, Suite 400  Springfield, IL 62701   (217)  782-9386
---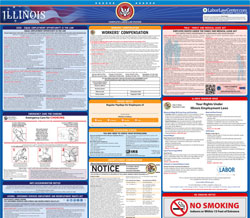 Instead of printing out pages of mandatory Illinois and Federal labor law posters, you can purchase a professional, laminated all-in-one labor law poster that guarantees compliance with all Illinois and federal posting requirements. Fully updated for May 2017!
Get All-In-One Poster Now
More Illinois Labor Law Posters 9 PDFS
Minimum-Wage.org provides an additional eight required and optional Illinois labor law posters that may be relevant to your business. Be sure to also print and post all required state labor law posters, as well as all of the mandatory federal labor law posters.

List of all 9 Illinois labor law posters
---
Illinois Labor Law Poster Sources:
Labor Poster Disclaimer:
While Minimum-Wage.org does our best to keep our list of Illinois labor law posters updated and complete, we provide this free resource as-is and cannot be held liable for errors or omissions. If the poster on this page is out-of-date or not working, please send us a message and we will fix it ASAP.