Sexual Harassment Poster
Maine Sexual Harassment Poster
Mandatory
The Sexual Harassment Poster is a Maine workplace violence law poster provided for businesses by the Maine Department Of Labor. This is a required poster for all Maine employers, and any business that fails to post this notification may be subject to penalties or fines.
This mandatory poster is a summary of Maine's zero tolerance on sexual harassment laws. It reminds employees and employers that sexual harassment is illegal and provides contact information for any suspected cases of harassment.
Poster PDF

Required for All

Workplace Violence Law
THE MAINE HUMAN RIGHTS ACT	 	
PROHIBITS SEX DISCRIMINATION	 	  	 	
 	
 	
SEXUAL HARASSMENT ON THE JOB IS ILLEGAL	 	
     	 	
	 UNWELCOME SEXUAL ADVANCES	 	
	 SUGGESTIVE OR LEWD REMARKS	 	
	 UNWANTED HUGS, TOUCHES, KISSES	 	
	 REQUESTS FOR SEXUAL FAVORS	 	
	 RETALIATION FOR 	COMPLAINING	 	
  	ABOUT SEXUAL HARASSMENT	 	
 
 
 	
IF YOU FEEL YOU HAVE BEEN DISCRIMINATED AGAINST, CONTACT:	 	
      	
MAINE HUMAN RIGHTS COMMISSION	 	
51 STATE HOUSE STATION, AUGUSTA, MAINE 04333	-0051	 	
PHONE (207) 624	-6290 FAX (207) 624	-8729 TTY	: MAINE RELAY	 711	 	
www.maine.gov/mhrc	 	
 
 	
 	 
OR CONTACT YOUR PERSONNEL DEPARMENT:	 	 	 	 	 	 	 	 	 	
 	 	DEPARTMENT / AGENCY CONTACT	 	      	Printed under appropriation: 01094H1010012 (	102012	 REV)
---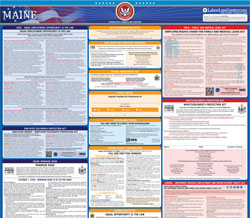 Instead of printing out pages of mandatory Maine and Federal labor law posters, you can purchase a professional, laminated all-in-one labor law poster that guarantees compliance with all Maine and federal posting requirements. Fully updated for September 2017!
Get All-In-One Poster Now
More Maine Labor Law Posters 14 PDFS
Minimum-Wage.org provides an additional thirteen required and optional Maine labor law posters that may be relevant to your business. Be sure to also print and post all required state labor law posters, as well as all of the mandatory federal labor law posters.

List of all 14 Maine labor law posters
---
Maine Labor Law Poster Sources:
Labor Poster Disclaimer:
While Minimum-Wage.org does our best to keep our list of Maine labor law posters updated and complete, we provide this free resource as-is and cannot be held liable for errors or omissions. If the poster on this page is out-of-date or not working, please send us a message and we will fix it ASAP.