Michigan Food Allergy Awareness
Michigan Food Allergy Awareness Poster
The Michigan Food Allergy Awareness is a Michigan food service poster provided for businesses by the Michigan Department Of Licensing and Regulatory Affairs. This is an optional notification, so while it is recommended that businesses hang this poster if relevant to their employees, it is not required by the Department Of Licensing and Regulatory Affairs.
Food Allergy Awareness
The Eight Major 
Food Allergens	
Milk
Eggs
Fish	
Crustacean	
Shellfish	
Wheat	
 Soybeans	
Peanuts
Tree Nuts	
Symptoms of an Allergic Reaction
• 	Loss of consciousness	
• 	Shortness of breath	
• 	Itching or tingling in or around the 
mouth, face, scalp, hands, and feet	
• 	Hives (welts)	
• 	Wheezing or difficulty breathing	
• 	Swelling of the face, eyelids, 
tongue, lips, hands, or feet	
• 	Tightening of the throat (difficulty 
swallowing)	
• 	Sudden onset of vomiting, cramps, 
or diarrhea	
If a customer informs you of a food allergy:
• Refer the food allergy concern to the Person in Charge (PIC).
• Review the food allergy with the customer and check the ingredient labels.
• Respond to the guest's request and inform them of your findings.
• Remember to check the food preparation procedures for 	ANY	 possible 	
cross contamination, which could include frying the item in question in th\
e 
same grease as an item that contains an allergen.	
• If a food item is returned to the kitchen due to an allergen, 	DO NOT	 	
attempt to remove the allergen and send the food back. 	Trace amounts of 	
allergens can trigger an allergic reaction.
Notify  the  Person  in  Charge  immediately           	
if a customer has an allergic reaction!	
www.michigan.gov/mda	
Funded by Act No. 92, of P.A. 2000, Industry Food Safety Eduction Fund
---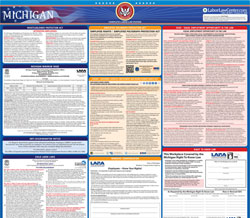 Instead of printing out pages of mandatory Michigan and Federal labor law posters, you can purchase a professional, laminated all-in-one labor law poster that guarantees compliance with all Michigan and federal posting requirements. Fully updated for December 2017!
Get All-In-One Poster Now
More Michigan Labor Law Posters 18 PDFS
Minimum-Wage.org provides an additional seventeen required and optional Michigan labor law posters that may be relevant to your business. Be sure to also print and post all required state labor law posters, as well as all of the mandatory federal labor law posters.

List of all 18 Michigan labor law posters
---
Michigan Labor Law Poster Sources:
Labor Poster Disclaimer:
While Minimum-Wage.org does our best to keep our list of Michigan labor law posters updated and complete, we provide this free resource as-is and cannot be held liable for errors or omissions. If the poster on this page is out-of-date or not working, please send us a message and we will fix it ASAP.