Critical Control Points for Two Stage Cooling
Michigan Critical Control Points for Two Stage Cooling Poster
The Critical Control Points for Two Stage Cooling is a Michigan miscellaneous law poster provided for businesses by the Michigan Department Of Licensing and Regulatory Affairs. This is an optional notification, so while it is recommended that businesses hang this poster if relevant to their employees, it is not required by the Department Of Licensing and Regulatory Affairs.
CRITICAL CONTROL POINTS 
FOR TWO STAGE COOLING	
HOT FOOD MUST 
BE COOLED 
COMPLETELY 
WITHIN 6 
HOURS TO 
AVOID GROWTH 
OF BACTERIA.
FOODS MUST 
BE MOVED 
QUICKLY 
THROUGH THE 
TEMPERATURE 
DANGER ZONE 
135	°F - 41	°F.	
IN 4 HOURS 	
OR LESS	
70	°	-41	°	
IN 2 HOURS 	
OR LESS	
135	°	-70	°	
Funded by Act No. 92, of PA 2000, Industry Food Safety Education Fund	
MichiganFoodSafety.com
---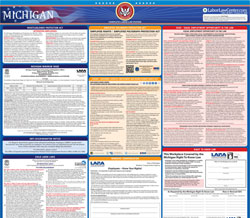 Instead of printing out pages of mandatory Michigan and Federal labor law posters, you can purchase a professional, laminated all-in-one labor law poster that guarantees compliance with all Michigan and federal posting requirements. Fully updated for December 2017!
Get All-In-One Poster Now
More Michigan Labor Law Posters 18 PDFS
Minimum-Wage.org provides an additional seventeen required and optional Michigan labor law posters that may be relevant to your business. Be sure to also print and post all required state labor law posters, as well as all of the mandatory federal labor law posters.

List of all 18 Michigan labor law posters
---
Michigan Labor Law Poster Sources:
Labor Poster Disclaimer:
While Minimum-Wage.org does our best to keep our list of Michigan labor law posters updated and complete, we provide this free resource as-is and cannot be held liable for errors or omissions. If the poster on this page is out-of-date or not working, please send us a message and we will fix it ASAP.