Montana Minimum Wage Poster
Montana Minimum Wage Poster
The Montana Minimum Wage Poster is a Montana minimum wage law poster provided for businesses by the Montana Department Of Labor & Industry. This is an optional notification, so while it is recommended that businesses hang this poster if relevant to their employees, it is not required by the Department Of Labor & Industry.
This is a state labor law poster enforced by the state department of Labor, Wage and Hour Unit. It's a mandatory posting required of all employers within the state. It provides information about the most current rate of minimum wage payable to covered employees within the state for every hour of service. The Montana minimum wage poster highlights the rights of covered employees while also indicating responsibilities of employers within the state. The poster defines those who qualify and or are exempted, including workers and employers, from the provisions of the state minimum wage regulation. It also contains information about possible penalties in the event of an infraction. The poster finally indicates where and how to file a related claim. The poster must be correctly posted by covered employers at a conspicuous place where all workers can access it.
Poster PDF

Optional Poster

Minimum Wage Poster

Minimum Wage Law
MONTANA'S 	MINIMUM WAGE 	
(Current) 	(Effective 	1/1/201	8) 	
$	8.	15	* 	$	8.	30	* 	
*The minimum wage is subject to a cost	-of-living adjustment based on the 	
Consumer Price Index no later than September 30	th of each year. 	Montana's minimum 	
wage is to be the greater of the 	federal or current state minimum wage. 	
Exception: 	A business not covered by the Fair Labor Standards Act whose gross annual sales are 	
$110,000 or less may pay $4.00 per hour, 	however	, if an individual employee is producing or moving 	
goods between states 	or otherwise covered by the Fair Labor Standards Act, that employee must be 	
paid 	the greater of either the 	fede	ral minimum wage or Montana's minimum wage. 	
NO TIP CREDIT, TRAINING WAGE OR MEAL CREDIT IS ALLOWED IN THE STATE OF MONTANA 	
OVERTIME 	PAY 	
Employees who work in excess of 40 hours in a workweek must receive overtime compensation at a 
rate of at least 1½ times their regular hourly rate for those hours worked over 40.  There are 
exclusions from overtime pay.  This information can be 	obtained by calling the Wage & Hour Unit at 	
(406) 444	-5600. 	
PAYMENT OF WAGES 	
WHILE STILL EMPLOYED: 	An employee must be paid within 10 business days after the end of the 	
pay period. 
WHEN SEPARATED FROM EMPLOYMENT: 	When an employee quits, wages are due on the next 	
scheduled pay day for the period in which the employee was separated, or 15 calendar days, 
whichever occurs first. 
TERMINATED FOR CAUSE: 	When an employee is laid off or discharged, all wages are due 	
immed	iately (within four hours or end of the business day, whichever occurs first), unless the 	
employer has a preexisting, written policy that extends the time for payment.  The wages cannot be 
delayed beyond the next pay day for the period in which the separat	ion occurred, or 15 calendar 	
days, whichever occurs first. 
FOR ADDITIONAL INFORMATION PLEASE CONTACT: 	
DEPARTMENT OF LABOR & INDUSTRY 	
LABOR STANDARDS BUREAU 	
WAGE & HOUR UNIT 	
PO BOX 	201503 	
HELENA MT  	59620	-1503 	
PHONE (406) 444	-5600 	
Plea	se visit us on the web at: 	
www.mtwagehourbopa.com
---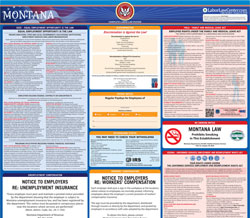 Instead of printing out pages of mandatory Montana and Federal labor law posters, you can purchase a professional, laminated all-in-one labor law poster that guarantees compliance with all Montana and federal posting requirements. Fully updated for December 2017!
Get All-In-One Poster Now
More Montana Labor Law Posters 2 PDFS
Minimum-Wage.org provides an additional one required and optional Montana labor law posters that may be relevant to your business. Be sure to also print and post all required state labor law posters, as well as all of the mandatory federal labor law posters.

List of all 2 Montana labor law posters
---
Montana Labor Law Poster Sources:
Labor Poster Disclaimer:
While Minimum-Wage.org does our best to keep our list of Montana labor law posters updated and complete, we provide this free resource as-is and cannot be held liable for errors or omissions. If the poster on this page is out-of-date or not working, please send us a message and we will fix it ASAP.