Public Work Project
New York Public Work Project Poster
The Public Work Project is a New York general labor law poster poster provided for businesses by the New York Department Of Labor. This notification is required for some employers, such as contractors and subcontractors.
This is a state labor post enforced by the New York department of labor, bureau of public work. It is a general posting important for all employers operating within the state. It's a summary of Chapter 629 of the state Labor Laws of 2007, which provides entitlement for payment of wages and supplements to all persons engaged in public work projects. The post also carries provisions to include contractor's name and project location. It should be displayed at a conspicuous place where everyone, particularly employees can access.
Poster PDF

Required for Some

General Labor Law Poster
New York State Department of Labor 
Bureau of Public Work 
Attention Employees 	
THIS IS A:  	
PUBLIC WORK 
PROJECT
If you are employed on this project as a  
worker, laborer, or mechanic you are entitled to  
receive the  prevailing wage and supplements rate 
for the classification at which you are working.	
Chapter 629 of 
the Labor Laws  
of 2007:	These wages are set by law and must be posted 
at the work site.  They can also be found at:
www.labor.ny.gov
If you feel that you have not received proper wages or benefits,  
please call our nearest office. * 
Albany
  Binghamton 
  Buffalo 
  Garden City 
  New York City 
  Newburgh  (518) 457
-2744
(607) 721-8005 
(716) 847-7159 
(516) 228-3915 
(212) 932-2419 
(845) 568-5156  Patchogue
Rochester 
Syracuse 
Utica 
White Plains 
(631
)687- 4882
(585) 258-4505 
(315) 428-4056 
(315) 793-2314 
(914) 997-9507 
*    For New York City government agency construction projects, please 
      contact the Office of the NYC Comptroller at (212) 669-4443,  or\
   www.comptroller.nyc.gov	
 – click on Bureau of Labor Law. 	
Contractor Name:
Project Location:	
PW 101  (4.15)
---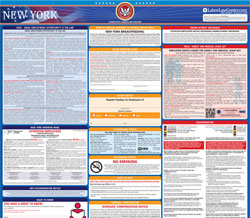 Instead of printing out pages of mandatory New York and Federal labor law posters, you can purchase a professional, laminated all-in-one labor law poster that guarantees compliance with all New York and federal posting requirements. Fully updated for January 2017!
Get All-In-One Poster Now
More New York Labor Law Posters 18 PDFS
Minimum-Wage.org provides an additional seventeen required and optional New York labor law posters that may be relevant to your business. Be sure to also print and post all required state labor law posters, as well as all of the mandatory federal labor law posters.

List of all 18 New York labor law posters
---
New York Labor Law Poster Sources:
Labor Poster Disclaimer:
While Minimum-Wage.org does our best to keep our list of New York labor law posters updated and complete, we provide this free resource as-is and cannot be held liable for errors or omissions. If the poster on this page is out-of-date or not working, please send us a message and we will fix it ASAP.