Pregnancy and Related Conditions under the Utah Antidiscrimination Act
Pregnancy and Related Conditions under the Utah Antidiscrimination Act Poster
Mandatory
The Pregnancy and Related Conditions under the Utah Antidiscrimination Act is an Utah workers rights law poster provided for businesses by the Utah Labor Commission. This is a required poster for all Utah employers, and any business that fails to post this notification may be subject to penalties or fines.
Pregnancy and Related Conditions	 	
under the Utah Antidiscrimination Act	 	
 	
 	The Utah Antidiscrimination Act requires an employer to make a 
reasonable accommodation	 for an employee for 	pregnancy, child 	
birth, breastfeeding, or a related condition	, upon the employee's 	
request. 	U	TAH 	CODE 	§ 34A	-5-106(1)(g) (2016). 	 	
 	
 	Unless the employer can show that the 	reasonable accommodation	 is 	
an 	undue hardship 	as defined by the Act, it cannot require a	n 	
employee to end the employment if a reasonable accommodation 
may be given, or deny employment opportunities to the employee if 
the denial is based on the need to make a reasonable accommodation. 
U	TAH 	CODE 	§ 34A	-5-102(1)(w) (2016).   	 	
 	
 	An employer 	may	 req	uire	 an employee seeking a reasonable 	
accommodation based on pregnancy or a related condition to provide 
a 	medical certification	. A medical certification must include: 	 	
o the date the reasonable accommodation becomes medically 
advisable; 	 	
o the probable durati	on of the accommodation; and 	 	
o a statement regarding the medical advisability of the 
accommodation. 	U	TAH 	CODE 	§ 34A	-5-106(7)(a) (2016). 	 	
 	
 	An employer 	may not	 require an employee to obtain a certification 	
from the employee's health care provider for more frequent 
restroom, food, or water breaks	. U	TAH 	CODE 	§ 34A	-5-106(7)(c) (2016). 	 	
 	
 
 
To learn more about your rights, please contact the Utah 
Antidiscrimination &	 Labor Division by calling 801	-530	-6801 or emailing 	
[email protected].
---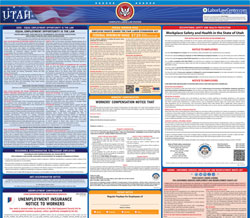 Instead of printing out pages of mandatory Utah and Federal labor law posters, you can purchase a professional, laminated all-in-one labor law poster that guarantees compliance with all Utah and federal posting requirements. Fully updated for November 2017!
Get All-In-One Poster Now
More Utah Labor Law Posters 6 PDFS
Minimum-Wage.org provides an additional five required and optional Utah labor law posters that may be relevant to your business. Be sure to also print and post all required state labor law posters, as well as all of the mandatory federal labor law posters.

List of all 6 Utah labor law posters
---
Utah Labor Law Poster Sources:
Labor Poster Disclaimer:
While Minimum-Wage.org does our best to keep our list of Utah labor law posters updated and complete, we provide this free resource as-is and cannot be held liable for errors or omissions. If the poster on this page is out-of-date or not working, please send us a message and we will fix it ASAP.