Commonwealth of Virginia Income Tax Credit
Commonwealth of Virginia Income Tax Credit Poster
Mandatory
The Commonwealth of Virginia Income Tax Credit is a Virginia general labor law poster poster provided for businesses by the Virginia Employment Commission. This is a required poster for all Virginia employers, and any business that fails to post this notification may be subject to penalties or fines.
In the Commonwealth of Virginia, working individuals or families may be eligible for the Virginia earned income tax credit. More specifically, this tax credit is a tax credit for people who work hard and don't make much money. Citizens in the State must meet certain requirements to be eligible:

Specifically, if a citizen's total family Virginia adjusted gross income is less than the amounts established under federal poverty guidelines, or the United States Department of Health and Human Services Poverty guidelines, then at that point they may qualify to claim the tax credit.

This credit's full name is the Virginia Credit for Low Income Individuals. The poster closes by listing methods by which individuals can contact the State of Virginia with claims or for more information. Specifically, citizens are encouraged to contact the Virginia Department of Social Services (contact information is included on the web)

Poster PDF

Required for All

General Labor Law Poster
For more information:	
Did you know Virginia has an 	 	
income tax credit for low-income, 
 
working individuals and  families?	
Call the 	Virginia Department of Taxation	 at: 	 	
(804) 367-8031	, PAY-VTAX at: 	(804) 339-1307	 	
or visit: 	www.tax.virginia.gov	
Two ways to increase 	 	
your income:	
Could you be eligible?	
The Federal Earned 
 Income  Tax  Credit
The Virginia Credit 	 	
for Low Income 
 Individuals	
FIND OUT IF YOU QUALIFY	  	
for the Commonwealth of   
Virginia 
income tax credit  today! Visit the 
Low Income  Individuals Credit 
page on the Virginia Tax site: 	 	
www.tax.virginia.gov/low-  
income-individuals-credit
---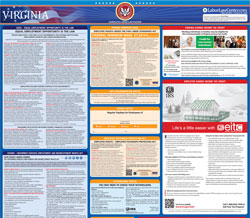 Instead of printing out pages of mandatory Virginia and Federal labor law posters, you can purchase a professional, laminated all-in-one labor law poster that guarantees compliance with all Virginia and federal posting requirements. Fully updated for December 2017!
Get All-In-One Poster Now
More Virginia Labor Law Posters 6 PDFS
Minimum-Wage.org provides an additional five required and optional Virginia labor law posters that may be relevant to your business. Be sure to also print and post all required state labor law posters, as well as all of the mandatory federal labor law posters.

List of all 6 Virginia labor law posters
---
Virginia Labor Law Poster Sources:
Labor Poster Disclaimer:
While Minimum-Wage.org does our best to keep our list of Virginia labor law posters updated and complete, we provide this free resource as-is and cannot be held liable for errors or omissions. If the poster on this page is out-of-date or not working, please send us a message and we will fix it ASAP.