Reasonable Accommodations for Pregnancy
Virginia Reasonable Accommodations for Pregnancy Poster
Mandatory
The Reasonable Accommodations for Pregnancy is a Virginia family leave law poster provided for businesses by the Virginia Employment Commission. This is a required poster for all Virginia employers, and any business that fails to post this notification may be subject to penalties or fines.
Virginia Human Rights Act 
Reasonable accommodations  for Pregnancy	
 	
 	
Protections from Discrimination  – Va. Code § 2.2 -3909  	
Effective July 1, 2020, employers with five or more employees for a 20 -week period in the 
current or preceding year must provide reasonable accommodations for pregnancy, 
childbirth or related medical conditions, including lactation, unless the accommodation 
would impose an undue hardship.   Employers also may not, in response to a request for a 
reasonable accommodation for pregnancy : 
  take adverse actions against  an employee ;   
  deny employment or promotions ; or  
  require an employee to t ake leave if another reasonable accommodation can be 
provided.  	
 	
Reasonable Accommodations  	
Examples of reasonable accommodations i nclude more frequent or longer bathroom breaks, 
breaks to express breast milk, access to a private location other than a bathroom for the 
expression of breast milk, acquisition or modification of equipment or access to or 
modification of employee seating, a temporary transfer to a less strenuous or hazardous 
position, assistance with manual labor, job restructuring, a modified wor k schedule, light 
duty assignments, and leave to recover from childbirth.  	
Interactive Process 	
When an employee requests an accommodation, employer s must  engage in a timely, good 
faith interactive process with the  employee to determine if the requested accommodation is 
reasonable and, if not, discuss alternative reasonable  accommodations that may be provided. 	
 	
Complaints 	
Any person who believes they were discriminated against on this basis may file a complaint 
with  the Division of Human Rights or seek relief by filing a civil action in state court.  
 	
O	FFICE OF THE 	A	TTORNEY 	G	ENERAL	 
Division of Human Right s 
202 North 9	
th  St reet  
Richmond, Virginia 23219  
www.ag.virginia.gov  
[email protected]  	
P: (804) 225-2292; F: (804) 225-3294
---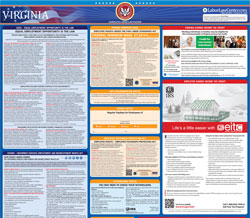 Instead of printing out pages of mandatory Virginia and Federal labor law posters, you can purchase a professional, laminated all-in-one labor law poster that guarantees compliance with all Virginia and federal posting requirements. Fully updated for December 2017!
Get All-In-One Poster Now
More Virginia Labor Law Posters 6 PDFS
Minimum-Wage.org provides an additional five required and optional Virginia labor law posters that may be relevant to your business. Be sure to also print and post all required state labor law posters, as well as all of the mandatory federal labor law posters.

List of all 6 Virginia labor law posters
---
Virginia Labor Law Poster Sources:
Labor Poster Disclaimer:
While Minimum-Wage.org does our best to keep our list of Virginia labor law posters updated and complete, we provide this free resource as-is and cannot be held liable for errors or omissions. If the poster on this page is out-of-date or not working, please send us a message and we will fix it ASAP.