Human Trafficking Poster
Virginia Human Trafficking Poster
The Human Trafficking Poster is a Virginia workplace violence law poster provided for businesses by the Virginia Employment Commission. This notification is required for some employers, such as adult entertainment businesses and truck stops.
Poster PDF

Required for Some

Workplace Violence Law
The hotline is available
24/7 Toll Free
Anonymous Confdential
Able to provide help and referral to
Services, Training, General Information
Available to Non-English Speakers	
Department of Labor and Industry	
Look Below the Surface
Human Trafcking is Modern Day Slavery
The National Human Trafcking Hotline:	 1-888-373-7888	
It is possible you could be a victim of human trafcking without even realizing it
Do you ever feel like you are a slave?
Has anyone ever convinced you to have sex for money?
Has anyone forced you to work to pay of a debt to them or anyone else?
Has anyone ever lied to you about the type of work you would be doing?
Has anyone made threats against you or your family?
Ask yourself
It is illegal for someone to do this to you
Your immigration status does not matter
You can fnd help
You need to know	
http://www.doli.virginia.gov	
If you or someone you know is being forced to  engage in any activity and cannot leave, whether it is commercial 
sex, housework, farm work, or any other activity - call the trafcking hotline to access help and services.
Victims of human trafcking are protected under both United States and Virginia Law
---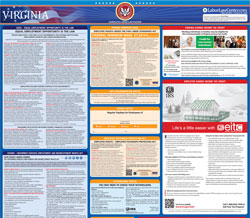 Instead of printing out pages of mandatory Virginia and Federal labor law posters, you can purchase a professional, laminated all-in-one labor law poster that guarantees compliance with all Virginia and federal posting requirements. Fully updated for December 2017!
Get All-In-One Poster Now
More Virginia Labor Law Posters 6 PDFS
Minimum-Wage.org provides an additional five required and optional Virginia labor law posters that may be relevant to your business. Be sure to also print and post all required state labor law posters, as well as all of the mandatory federal labor law posters.

List of all 6 Virginia labor law posters
---
Virginia Labor Law Poster Sources:
Labor Poster Disclaimer:
While Minimum-Wage.org does our best to keep our list of Virginia labor law posters updated and complete, we provide this free resource as-is and cannot be held liable for errors or omissions. If the poster on this page is out-of-date or not working, please send us a message and we will fix it ASAP.