Break & Meal Periods
Connecticut Required Workday Break & Meal Periods 2023
Workday Meal Periods:
REQUIRED
By Statute
Workday Rest Periods:
No Regulation
Connecticut has regulations describing workday meal / lunch breaks to be provided to employees, but does not mandate that employees be provided additional, shorter break periods. This page provides details about Connecticut's meal period requirements.
Mandatory Workday Lunch / Meal Breaks in Connecticut
Connecticut requires that employees be provided a ½ hour lunch break after the first 2 hours of work and before the last 2 hours of work, for employees who work 7½ consecutive hours or more in a shift.
Which employees are covered by Connecticut's meal period regulations?
Connecticut's meal break laws exclude employers who provides 30 or more total minutes of paid rest or meal periods within each 7½ hour work period. Meal period requirements do not alter or impair collective bargaining agreements in effect, or prevent a different meal schedule by written employer/employee agreement.
Additional Meal Period Information
The Labor Commissioner is directed to exempt from meal break laws, by regulation, any employer if it is found that compliance would be adverse to public safety, or that duties of a position can be performed only by one employee, or in continuous operations under specified conditions, or that employer employs less than 5 employees on a shift at a single place of business provided the exemption applies only to employees on such a shift.
While most states have additional legislation specifying required meal periods for minor employees under age 18, the Connecticut government has no such regulations.
Mandatory Workday Rest Periods in Connecticut
While some states have labor regulations requiring that employees be allowed one or more workday rest periods, the Connecticut government has no such regulations. Therefore, in Connecticut, any breaks or rest periods are provided to employees at the discretion of the employer.
---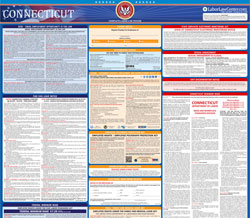 Instead of printing out pages of mandatory Connecticut and Federal labor law posters, you can purchase a professional, laminated all-in-one labor law poster that guarantees compliance with all Connecticut and federal posting requirements. Fully updated for November 2017!
Get All-In-One Poster Now
---
← Back to Connecticut Minimum Wage