Minimum Wage Rates (Spanish)
Minnesota Minimum Wage Rates (Spanish) Poster
Mandatory
The Minimum Wage Rates (Spanish) is a Minnesota minimum wage law poster provided for businesses by the Minnesota Department Of Labor & Industry. This is a required poster for all Minnesota employers, and any business that fails to post this notification may be subject to penalties or fines.
This mandatory Spanish poster is a summary of Minnesota's minimum wage laws. It outlines what minimum wage is in Massachusetts and how overtime pay works. Information on how to pay tipped employees and in-training employees.
Poster PDF

Spanish Language Poster

Required for All

Minimum Wage Poster

Minimum Wage Law
TASA DE SALARIO MÍNIMO	
Empresa grande –	 Cualquier empresa con un volumen anual bruto 	
de ganancias de $ 500,000 o más	
$10	/hora	
Empresa pequeña – 	Cualquier empresa con un volumen anual bruto 	
de ganancias de menos de $ 500,000
Salario de capacitación – 	Se pagará a los empleados de 18 y 19 años 	
de edad durante los primeros 90 días consecutivos de empleo
Salario de Jóvenes – 	Se pagará a los empleados menores de 17 años 	
de edad o menores	
$8.15	/hora	
Visa J-1 – 	Se pagará a los empleados de hoteles, moteles, 	
establecimientos de hospedaje y complejos turísticos que trabajan bajo 
la autoridad de un trabajo de verano, visa de visitante de intercambio (J) 
no-inmigrante	
$8.15	/hora	
Tasas de salarios mínimos	
A partir de: 1 de enero de 2020	
HORAS EXTRAS	
Tiempo y medio de 
la tasa regular de pago 	
del empleado	
Empresarios pequeños 
o cubiertos por el estado	
Empresas grandes y cubiertas 	
por el gobierno federal	
Después de  	48	  horas	Después de  	40	  horas	
DERECHOS DEL 
EMPLEADO	
Un empleador no puede despedir, disciplinar, amenazar, discriminar o sancionar a un 
empleado con respecto a la compensación, las condiciones, la ubicación o privilegios 
de empleo porque el empleado haya reportado una violación de cualquier ley o se niega 
a participar en una actividad que el empleado sabe que es una violación de le y.	
651-284-5070 • 800-342-5354 • [email protected] • www.dli.mn.gov	
Octubre de 2019	Se requiere la publicación de este aviso por ley en un lugar donde los empleados puedan verlo fácilmente.	
Para información completa sobre las tasas de salarios visite 	 	
www.dli.mn.gov/business/employment-practices/minimum-wage-minnesota.
---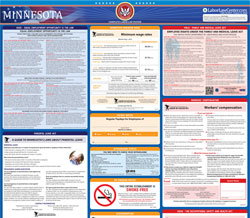 Instead of printing out pages of mandatory Minnesota and Federal labor law posters, you can purchase a professional, laminated all-in-one labor law poster that guarantees compliance with all Minnesota and federal posting requirements. Fully updated for April 2017!
Get All-In-One Poster Now
More Minnesota Labor Law Posters 10 PDFS
Minimum-Wage.org provides an additional nine required and optional Minnesota labor law posters that may be relevant to your business. Be sure to also print and post all required state labor law posters, as well as all of the mandatory federal labor law posters.

List of all 10 Minnesota labor law posters
---
Minnesota Labor Law Poster Sources:
Labor Poster Disclaimer:
While Minimum-Wage.org does our best to keep our list of Minnesota labor law posters updated and complete, we provide this free resource as-is and cannot be held liable for errors or omissions. If the poster on this page is out-of-date or not working, please send us a message and we will fix it ASAP.