Minimum wage rates
Minnesota Minimum wage rates Poster
Mandatory
The Minimum wage rates is a Minnesota minimum wage law poster provided for businesses by the Minnesota Department Of Labor & Industry. This is a required poster for all Minnesota employers, and any business that fails to post this notification may be subject to penalties or fines.
This mandatory poster is a summary of Minnesota's minimum wage laws. It outlines what minimum wage is in Massachusetts and how overtime pay works. Information on how to pay tipped employees and in-training employees.
Poster PDF

Required for All

Minimum Wage Poster

Minimum Wage Law
Effective:  Jan. 1, 2020	
Minimum wage rates	
MINIMUM WAGE RATE	
Large employer –	 Any enterprise with annual gross 	revenues	 of 	
$500,000 or more	
$10	/hour	
Small employer – 	Any enterprise with annual gross revenues of less 	
than $500,000
Training wage – 	May be paid to employees aged 18 and 19 the first 90 	
consecutive days of employment
Youth wage – 	May be paid to employees aged 17 or younger	
$8.15	/hour	
J-1 Visa – 	May be paid to employees of hotels, motels, lodging 	
establishments and resorts working under the authority of a summer 
work, travel Exchange Visitor (J) non-immigrant visa	
$8.15	/hour	
OVERTIME	
Time-and-one-half 
the employee's	 	
regular rate of pay	
Small or state-covered 	
employers	
Large and federally covered 	
employers	
After  	48	  hours	After  	40	  hours	
EMPLOYEE
RIGHTS	
An employer may not discharge, discipline, threaten, discriminate or penalize an 
employee regarding the employee's compensation, conditions, location or privileges 
of employment because the employee reports a violation of any law or refuses to 
participate in an activity the employee knows is a violation of law.	
View complete wage-rate information at www.dli.mn.gov/business/employment-practices/minimum-wage-minnesota.	
651-284-5070 • 800-342-5354 • [email protected] • www.dli.mn.gov
Posting required by law in a location where employees can easily see this notice.	October 2019
---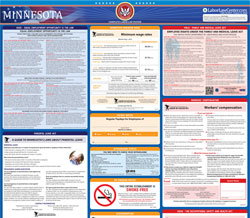 Instead of printing out pages of mandatory Minnesota and Federal labor law posters, you can purchase a professional, laminated all-in-one labor law poster that guarantees compliance with all Minnesota and federal posting requirements. Fully updated for April 2017!
Get All-In-One Poster Now
More Minnesota Labor Law Posters 10 PDFS
Minimum-Wage.org provides an additional nine required and optional Minnesota labor law posters that may be relevant to your business. Be sure to also print and post all required state labor law posters, as well as all of the mandatory federal labor law posters.

List of all 10 Minnesota labor law posters
---
Minnesota Labor Law Poster Sources:
Labor Poster Disclaimer:
While Minimum-Wage.org does our best to keep our list of Minnesota labor law posters updated and complete, we provide this free resource as-is and cannot be held liable for errors or omissions. If the poster on this page is out-of-date or not working, please send us a message and we will fix it ASAP.