Discrimination Poster
South Carolina Discrimination Poster
Mandatory
The Discrimination Poster is a South Carolina workers rights law poster provided for businesses by the South Carolina Department Of Labor, Licensing and Regulation. This is a required poster for all South Carolina employers, and any business that fails to post this notification may be subject to penalties or fines.
Poster PDF

Bilingual Poster

Required for All

Workers Rights Law
SOUTH CAROLINA LAW  PROHIBITS   	
DISCRIMINATION  	
 	
BASED ON:  
RACE, RELIGION, COLOR, SEX, AGE,  NATIONAL ORIGIN OR DISABILITY  
 	
WHAT IS COVERED UNDER THE LAW:   	
•	EMPLOYMENT 
• RETALIATION  AS A RESULT OF  
FILING A CLAIM  	
 
If you feel that you have been 
discriminated against, please contact us.  
 
SOUTH CAROLINA HUMAN AFFAIRS  COMMISSION  
1026 SUMTER ST., SUITE 101  COLUMBIA, SC 29201  
WWW.SCHAC.SC.GOV  
 	
PHONE: 803 -737 -7800  
TOLL -FREE:  1-800 -521 -0725 
 	
E QUAL	 EMPLOYMENT	 OPPORTUNITY	 IS	 THE	 LAW	 	
LA LEY DE LA CAROLINA DEL SUR   
PROHÍBE   	
DISCRIMINACIÓN   	
 	
BASADA EN: 
RAZA, RELIGIÓN, COLOR , SEXO, EDAD,  ORIGEN NACIONAL O INCAPACIDAD  
 
LO QUE ESTA CUBIERTO BAJO LA LEY:  	
•	EMPLEO 
• ACCIÓN VENGATIVA DESPUÉS 
DE PRESENTAR UNA QUEJA  	
 
Si usted siente que ha sido discriminado  contactarnos.  
 
LA COMISIÓN DE ASUNTOS HUMANOS DE  CAROLINA DEL SUR  
1026 SUMTER ST., SUITE 101  COLUMBIA, SC 29201  
WWW.SCHAC.SC.GOV  
 	
TELÉFONO: 803 -737 -7800  
NUMERO GRATIS:  1-800 -521 -0725 
 	
IGUALDAD	 DE	 OPORTUNIDADES	 DE	 EMPLEO	 ES	 LA	 LEY
---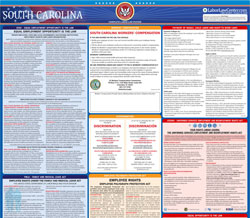 Instead of printing out pages of mandatory South Carolina and Federal labor law posters, you can purchase a professional, laminated all-in-one labor law poster that guarantees compliance with all South Carolina and federal posting requirements. Fully updated for October 2017!
Get All-In-One Poster Now
More South Carolina Labor Law Posters 9 PDFS
Minimum-Wage.org provides an additional eight required and optional South Carolina labor law posters that may be relevant to your business. Be sure to also print and post all required state labor law posters, as well as all of the mandatory federal labor law posters.

List of all 9 South Carolina labor law posters
---
South Carolina Labor Law Poster Sources:
Labor Poster Disclaimer:
While Minimum-Wage.org does our best to keep our list of South Carolina labor law posters updated and complete, we provide this free resource as-is and cannot be held liable for errors or omissions. If the poster on this page is out-of-date or not working, please send us a message and we will fix it ASAP.