Discrimination Poster (Updated PAA/Accommodations) (Spanish)
South Carolina Discrimination Poster (Updated PAA/Accommodations) (Spanish)
The Discrimination Poster (Updated PAA/Accommodations) (Spanish) is a South Carolina workers rights law poster provided for businesses by the South Carolina Department Of Labor, Licensing and Regulation. This notification is required for some employers, such as employers of spanish-speaking employees.
Poster PDF

Spanish Language Poster

Required for Some

Workers Rights Law
La Ley de Carolina Del Sur Prohíbe	  	
Discriminación en el Empleo	
 
 
Ejemplos de conducta bajo la ley	: 	
	 Negar	 empleo	 o promoción en su empleo	 	
	 Salarios desiguales	 	
	 Hostigamiento/Intimidación	  	
	 Disc	iplina/Democión	/Suspensión/Terminación	 	
	 Aplicando	 Diferentes	 Términos y Condiciones de Empleo	  	
	 No 	Acomodar Razonablemente debido a su	 discapacidad	, 	
religión	, embarazo, después de parto	 o alguna condición 	
médica	, in	cluyendo	, pero no limita	da, a lactación	  	
	 Represalias	 por haberse quejado por ser discriminado	, 	
solicitar acomodación	, o parti	cipar en una investigación 	
de discriminación.	 	
 
 
 
 
 
 
 	
 
 
Como 	report	ar discriminación en el empleo	: 	
 Completar	 un cuestionario en el empleo por 	teléfono	, en	-person	a, correo, 	
o por 	correo electrónico 	al www.schac.sc.gov	. Una vez que envié su 	
cuestionario	, a 	la Comisión de 	Asuntos Humanos de Carolina Del Sur	 un 	
Oficial 	de consumo lo contactara para asistirlo en	 como presentar su queja 	
formal	. 	
 Debe de poner su queja para iniciar su queja formal	. 	
	 Hay estrictos límites de tiempo en como enviar su queja o cargo de 
discriminación en el empleo. Para preservar la habilidad de 	actuar a su 	
favor y proteger sus derechos para archivar una demanda privada	, si 	
últimamente necesita	, o si debería contactar	 a la Comisión de 	Asuntos 	
Humanos de Carolina Del Sur	 inmediatamente 	cuando	 se sospeche la 	
discriminación	. 	
Oportunidad de Empleo Igualitario	 es la Ley	 	
 	Com	isión	 de Asuntos Humanos de 	
Carolina del Sur	 	
1026 Sumter Street, Suite 101	 	
Columbia, SC, 	29201	 	
www.schac.sc.gov	  	
Tel	: 803	-737	-7800	 	
Sin Costo	: 1	-800	-521	-0725	 	
 	
Emp	leadores	, incluyendo cada agencia estatal,	 o departamento	 del Estado	, y locales de	 subdivisión	, deberán	 PUBLICAR	, MANTENER POSTEADO	, Y MANTENER	 EN 	
donde 	notificaciones	 de empleados y 	alicantes	 de empleo	 han sido habitualmente publicados una notificación	 a estar 	CONSPICU	O LUGARES SOBRE INSTALACIONES	 	
preparados y distribuirlos por ajuste a la Comisión exponiendo ejercicios de y/o	 resúmenes de	, p	rovisiones pertinentes de la ley de Asuntos Humanos	, y información 	
pertinente de	 la queja.	 	
Basado en su: Raza	, Color, 	Religión	, Nacionalidad	 de Origen	, Sex	o, incluyendo embarazo	 y 	
parto	 (o condiciones médicas relacionadas	), Edad	 (40	 años o más	), o	 discapacidad	 	
En Adición de Empleo	, la  Misión de la 	
Comisión de Asuntos Humanos de Carolina 	
del Sur es de eliminar y prevenir 	
discriminación ilegal	: 	
Vivienda en base a su raza	, color, 	
Nacionalidad de Origen	, religión	, sex	o, 	
estatus familiar	 o d	eseabilidad	. 	
Acomodaciones Públicas en base a 	su 	
raza	, color, 	Nacionalidad de Origen o	 	
religión	.
---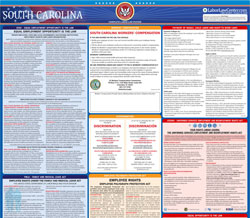 Instead of printing out pages of mandatory South Carolina and Federal labor law posters, you can purchase a professional, laminated all-in-one labor law poster that guarantees compliance with all South Carolina and federal posting requirements. Fully updated for September 2017!
Get All-In-One Poster Now
More South Carolina Labor Law Posters 9 PDFS
Minimum-Wage.org provides an additional eight required and optional South Carolina labor law posters that may be relevant to your business. Be sure to also print and post all required state labor law posters, as well as all of the mandatory federal labor law posters.

List of all 9 South Carolina labor law posters
---
South Carolina Labor Law Poster Sources:
Labor Poster Disclaimer:
While Minimum-Wage.org does our best to keep our list of South Carolina labor law posters updated and complete, we provide this free resource as-is and cannot be held liable for errors or omissions. If the poster on this page is out-of-date or not working, please send us a message and we will fix it ASAP.