Families First Coronavirus Response Act Paid Leave Notice (Spanish)
Federal Families First Coronavirus Response Act Paid Leave Notice (Spanish)
Mandatory
The Families First Coronavirus Response Act Paid Leave Notice (Spanish) is a Federal sick leave law poster provided for businesses by the Federal Department Of Labor. This is a required poster for all Federal employers, and any business that fails to post this notification may be subject to penalties or fines.
Poster PDF

Spanish Language Poster

Required for All

Sick Leave Law
DERECHOS DEL EMPLEADO
LICENCIA POR ENFERMEDAD PAGADA Y EXPANSION DE LICENCIA 
FAMILIAR Y POR ENFERMEDAD BAJO LEY FAMILIAS PRIMERO   
DE RESPUESTA AL CORONAVIRUS	
DIVISION DE HORAS Y SALARIOS
DEPARTAMENTO DE TRABAJO DE ESTADOS UNIDOS	
WH1422 SPA  REV 03/20	
Para información adicional   
o para presentar una queja:  	
1-866-487-9243
TTY: 1-877-889-5627
dol.gov/agencies/whd	
1.  está sujeto a orden de cuarentena o aislamiento 
Federal, Estatal, o local relacionada al COVID-19;
2.  ha sido instruido por un proveedor de salud que se 
ponga en auto-cuarentena por COVID-19; 
3.  está experimentando síntomas de COVID-19 y está 
solicitando diagnóstico médico;
4.  está cuidando a una persona sujeta a una orden 
descrita en (1) o en auto-cuarentena descrita en (2);	
► CUMPLIMIENTO
La División de Horas y Salarios (WHD) del Departamento de Trabajo de EE.UU. tiene la autoridad de investigar y hacer 
que se cumpla la FFCRA. Los empleadores no podrán expulsar, disciplinar, o discriminar de ningún modo a un empleado 
que legalmente hace uso de su derecho a licencia laboral pagada o a exte\
nsión de licencia familiar y por enfermedad 
bajo FFCRA, presenta una queja, o inicia un procedimiento bajo o relativ\
o a esta Ley. Los empleadores que violen las 
provisiones de la FFCRA serán objeto de multas y medidas de cumplimiento por la WHD. 5. 
está cuidando a un hijo cuya escuela o lugar de 
cuidados está cerrado (o cuidados infantiles no 
están disponibles) por razones de COVID-19; o
6.  está experimentando otras condiciones 
sustancialmente similares a las especificadas por 
el Secretario de Salud y Servicios Humanos.
La Ley Familias Primero de Respuesta al Coronavirus (FFCRA o Ley) requiere que ciertos empleadores den 
a empleados licencias laboral pagadas o expansión de licencia familia\
r y por enfermedad por razones relativas al 
COVID-19. Estas provisiones aplicarán desde abril 1 hasta diciembre 3\
1 del 2020. 
►  DERECHOS A LICENCIA LABORAL PAGADA
En general, los empleadores cubiertos bajo la Ley deben proveer a emplea\
dos: 
Hasta 2 semanas (80 horas, o el equivalente de dos semanas de un emplea\
do a tiempo parcial) de licencia por 
enfermedad pagada en base a su mayor tasa regular de pago, o el salario \
mínimo estatal o federal aplicable, de la 
siguiente manera:
•  100% para razones calificables #1-3 (ver abajo), hasta $511 por día y $5,110 total; 
•   2/3 para razones calificables #4 and 6, hasta $200 por día y $2,000 total; y
•   Hasta 12 semanas de licencia por enfermedad pagada y expansión de li\
cencia familiar y por enfermedad pagada   
 a 2/3 para razones calificables #5 de hasta $200 por día y $12,000 total.
Un empleado a tiempo parcial es elegible a licencia por las horas que tr\
abajaría durante ese periodo.
► EMPLEADOS ELEGIBLES
En general, empleados de empleadores del sector privado con menos de 500\
 trabajadores, y de ciertos empleadores del 
sector público, son elegibles a hasta dos semanas de licencia pagada \
total o parcialmente por enfermedad por razones 
de COVID-19 (ver abajo).  Empleados que hayan estado en nómina al menos 30 días anteriores a\
 su solicitud de licencia 
podrán ser elegibles a hasta 10 semanas adicionales de expansión p\
agada parcialmente de licencia familiar y por 
enfermedad por razón #5.
►  RAZONES CALIFICABLES A LICENCIA RELACIONADA A COVID-19
Un empleado tiene derecho a tomar licencia laboral relacionada a COVID-1\
9 si no le es posible trabajar, incluyendo 
imposibilidad de hacer  teletrabajo, porque el empleado:
---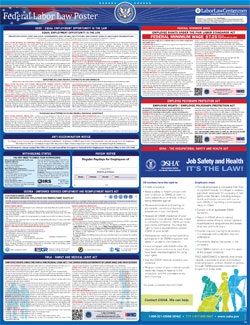 Instead of printing out pages of mandatory state and Federal labor law posters, you can purchase a professional, laminated all-in-one labor law poster that guarantees compliance with all federal posting requirements. Fully updated for January 2017!
Get All-In-One Poster Now
More Federal Labor Law Posters 46 PDFS
Minimum-Wage.org provides an additional 45 required and optional Federal labor law posters that may be relevant to your business. Be sure to also print and post all required state labor law posters, as well as all of the mandatory federal labor law posters.

List of all 46 Federal labor law posters
---
Federal Labor Law Poster Sources:
Labor Poster Disclaimer:
While Minimum-Wage.org does our best to keep our list of Federal labor law posters updated and complete, we provide this free resource as-is and cannot be held liable for errors or omissions. If the poster on this page is out-of-date or not working, please send us a message and we will fix it ASAP.