Federal Contractor Sick Leave (EO 13706)
Federal Contractor Sick Leave (EO 13706) Poster
The Federal Contractor Sick Leave (EO 13706) is a Federal sick leave law poster provided for businesses by the Federal Department Of Labor. This notification is required for some employers, such as employers working under covered federal contracts.
1-866-487-9243	
TTY: 1-877-889-5627	
www.dol.gov/whd/govcontracts	
WH1090 REV 09/16	
PAID SICK LEAVE	Executive Order 13706, Establishing Paid Sick Leave for Federal 
Contractors, requires certain employers that contract with the Federal 
Government to provide employees working on or in connection with 
those contracts with 1 hour of paid sick leave for every 30 hours they 
work—up to 56 hours of paid sick leave each year.
Employees must be permitted to use paid sick leave for their own 
illness, injury, or other health-related needs, including preventive care; 
to assist a family member who is ill, injured, or has other health-related 
needs, including preventive care; or for reasons resulting from, or to 
assist a family member who is the victim of, domestic violence, sexual 
assault, or stalking.
Employers are required to inform employees of their paid sick leave 
balances and must approve all valid requests to use paid sick leave. 
Rules about when and how employees should ask to use paid 
sick leave also apply. More information about the paid sick leave 
requirements is available at www.dol.gov/whd/govcontracts/eo13706	
ENFORCEMENT	The Wage and Hour Division (WHD), which is responsible for making 
sure employers comply with Executive Order 13706, has offices across 
the country. WHD can answer questions, in person or by telephone, 
about your workplace rights and protections. WHD can investigate 
employers and recover wages to which workers may be entitled. All 
services are free and confidential. If you are unable to file a complaint 
in English, WHD will accept the complaint in any language.
The law prohibits discriminating against or discharging workers who 
file a complaint or participate in any proceeding under the Executive 
Order.	
ADDITIONAL	 	
INFORMATION	
Executive Order 13706 applies to new contracts and replacements for 
expiring contracts with the Federal Government starting January 1, 
2017. It applies to federal contracts for construction and many types 
of federal contracts for services.
Some state and local laws also require that employees be provided 
with paid sick leave. Employers must comply with all applicable 
requirements.	
WORKER RIGHTS 
UNDER EXECUTIVE ORDER 13706	
PAID SICK LEAVE	 	FOR 	
FEDERAL CONTRACTORS
ONE HOUR OF PAID SICK LEAVE FOR EVERY 30 
HOURS WORKED, UP TO 56 HOURS EACH YEAR	
WAGE AND HOUR DIVISION
UNITED STATES DEPARTMENT OF LABOR
---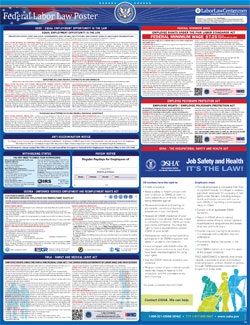 Instead of printing out pages of mandatory state and Federal labor law posters, you can purchase a professional, laminated all-in-one labor law poster that guarantees compliance with all federal posting requirements. Fully updated for January 2017!
Get All-In-One Poster Now
More Federal Labor Law Posters 46 PDFS
Minimum-Wage.org provides an additional 45 required and optional Federal labor law posters that may be relevant to your business. Be sure to also print and post all required state labor law posters, as well as all of the mandatory federal labor law posters.

List of all 46 Federal labor law posters
---
Federal Labor Law Poster Sources:
Labor Poster Disclaimer:
While Minimum-Wage.org does our best to keep our list of Federal labor law posters updated and complete, we provide this free resource as-is and cannot be held liable for errors or omissions. If the poster on this page is out-of-date or not working, please send us a message and we will fix it ASAP.