Davis-Bacon Act Poster (Spanish)
Federal Davis-Bacon Act Poster (Spanish)
The Davis-Bacon Act Poster (Spanish) is a Federal minimum wage law poster provided for businesses by the Federal Department Of Labor. This notification is required for some employers, such as employers who are contractors/subcontractors engaged in contracts of excess of $2,000 for anything building or modifying a building financed partially or fully from the federal government..
This optional Spanish poster contains information regarding the Davis-Bacon law. It includes salary, work, and other relevant information in Spanish. Additional contact information is located in the poster as well.
Poster PDF

Spanish Language Poster

Required for Some

Minimum Wage Poster

Minimum Wage Law
SALARIOS 
PREVALECIENTES	No se le puede pagar menos de la tasa de pago indicada en la Decisión de Salarios Davis-Bacon fijada con 
este Aviso para el trabajo que Ud. desempeña.	
SOBRETIEMPO	Se le ha de pagar no menos de tiempo y medio de su tasa básica de pag\
o por todas las horas trabajadas 
en exceso de 40 en una semana laboral. Existen pocas excepciones.	
CUMPLIMIENTO	Se pueden retener pagos por contratos para asegurarse que los obreros reciban los salarios y el pago 
de sobretiempo debidos, y se podría aplicar daños y perjuicios si no se c\
umple con las exigencias del 
pago de sobretiempo. Las cláusulas contractuales de Davis-Bacon permiten la termi\
nación y exclusión 
de contratistas para efectuar futuros contratos federales hasta tres años. El contratista que falsifique 
los registros certificados de las nóminas de pago o induzca devoluciones de sala\
rios puede ser sujeto a 
procesamiento civil o criminal, multas y/o encarcelamiento.	
APRENDICES	Las tasas de aprendices sólo se aplican a aprendices correctamente inscritos bajo programas federales o 
estatales aprobados.	
PAGO APROPIADO	Si Ud. no recibe el pago apropiado, o precisa de información adicional sobre los salarios aplicables, 
póngase en contacto con el Contratista Oficial que aparece abajo:	
DERECHOS DEL EMPLEADO  	
BAJO LA LEY DAVIS-BACON	
La ley exige que los empleadores exhiban este cartel donde sea visible por los empleados.	
PARA OBREROS Y MECÁNICOS 
EMPLEADOS EN PROYECTOS DE 
CONSTRUCCIÓN FEDERAL O CON  ASISTENCIA FEDERAL	
WH1321 SPA  REV 10/17	
DIVISIÓN DE HORAS Y SALARIOS
DEPARTAMENTO DE TRABAJO DE LOS EE.UU. 1-866-487-9243
TTY: 1-877-889-5627 www.dol.gov/whd	
o póngase en contacto con la División de Horas y Salarios del Depa\
rtamento de Trabajo de los EE.UU.
---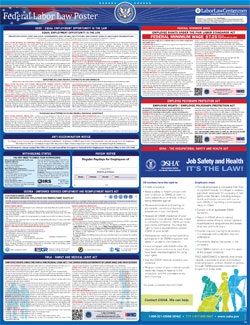 Instead of printing out pages of mandatory state and Federal labor law posters, you can purchase a professional, laminated all-in-one labor law poster that guarantees compliance with all federal posting requirements. Fully updated for January 2017!
Get All-In-One Poster Now
More Federal Labor Law Posters 46 PDFS
Minimum-Wage.org provides an additional 45 required and optional Federal labor law posters that may be relevant to your business. Be sure to also print and post all required state labor law posters, as well as all of the mandatory federal labor law posters.

List of all 46 Federal labor law posters
---
Federal Labor Law Poster Sources:
Labor Poster Disclaimer:
While Minimum-Wage.org does our best to keep our list of Federal labor law posters updated and complete, we provide this free resource as-is and cannot be held liable for errors or omissions. If the poster on this page is out-of-date or not working, please send us a message and we will fix it ASAP.