OSHA Job Safety & Health Protection Poster (Spanish)
Federal OSHA Job Safety & Health Protection Poster (Spanish)
Mandatory
The OSHA Job Safety & Health Protection Poster (Spanish) is a Federal job safety law poster provided for businesses by the Federal Department Of Labor. This is a required poster for all Federal employers, and any business that fails to post this notification may be subject to penalties or fines.
This mandatory Spanish poster is a summary of federal job safety and health laws as established by OSHA. It lists all the rights for employees and responsibilities of employers.
Poster PDF

Spanish Language Poster

Required for All

Job Safety Law
Seguridad y Salud en el Trabajo	
¡ES LA LEY!	
Todos los trabajadores tienen el derecho a:
 ƒ	Un lugar de trabajo seguro. 	
 ƒ	Decir algo a su empleador o la OSHA sobre 
preocupaciones de seguridad o salud, o 
reportar una lesión o enfermedad en el trabajo, 
sin sufrir represalias. 	
 ƒ	Recibir información y entrenamiento sobre 
los peligros del trabajo, incluyendo sustancias 
toxicas en su sitio de trabajo. 	
 ƒ	Pedir una inspección confidencial de OSHA 
de su lugar de trabajo si usted cree que hay 
condiciones inseguras o insalubres. Usted 
tiene el derecho a que un representante se 
comunique con OSHA en su nombre.	
 ƒ	Participar (o su representante puede participar) 
en la inspección de OSHA y hablar en privado 
con el inspector. 	
 ƒ	Presentar una queja con la OSHA dentro 
de 30 días (por teléfono, por internet, o por 
correo) si usted ha sufrido represalias por 
ejercer sus derechos. 	
 ƒ	Ver cualquieras citaciones de la OSHA emitidas 
a su empleador. 	
 ƒ	Pedir copias de sus registros médicos, 
pruebas que miden los peligros en el trabajo, 
y registros de lesiones y enfermedades 
relacionadas con el trabajo. 	
Los empleadores deben:
 ƒ	Proveer a los trabajadores un lugar de trabajo 
libre de peligros reconocidos. Es ilegal discriminar 
contra un empleado quien ha ejercido sus 
derechos bajo la ley, incluyendo hablando sobre 
preocupaciones de seguridad o salud a usted 
o con la OSHA, o por reportar una lesión o 
enfermedad relacionada con el trabajo. 	
 ƒ	Cumplir con todas las normas aplicables 
de la OSHA. 	
 ƒ	Notificar a la OSHA dentro de 8 horas de 
una fatalidad laboral o dentro de 24 horas 
de cualquier hospitalización, amputación, o 
pérdida de ojo relacionado con el trabajo. 	
 ƒ	Proporcionar el entrenamiento requerido 
a todos los trabajadores en un idioma y 
vocabulario que pueden entender. 	
 ƒ	Mostrar claramente este cartel en el lugar 
de trabajo. 	
 ƒ	Mostrar las citaciones de la OSHA acerca del 
lugar de la violación alegada. 	
Servicios de consulta en el lugar de trabajo 
están disponibles para empleadores de tamaño 
pequeño y mediano sin citación o multa, a través 
de los programas de consulta apoyados 
por la OSHA en cada estado. 	
Llame OSHA. Podemos ayudar. 	
1-800-321-OSHA (6742)  •  	TTY 1-877-889-5627	  •  www.osha.gov	
Este cartel está disponible de la OSHA para gratis.	
OSHA 3167-04R 2019
 
It's the Law – Spanish	
Departamento  de Trabajo	de los EE. UU.	
Administración de 	 	
Seguridad y Salud 	
Ocupacional
---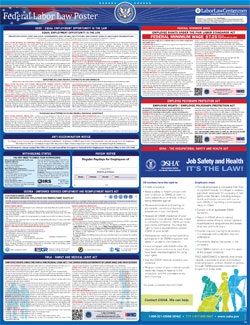 Instead of printing out pages of mandatory state and Federal labor law posters, you can purchase a professional, laminated all-in-one labor law poster that guarantees compliance with all federal posting requirements. Fully updated for January 2017!
Get All-In-One Poster Now
More Federal Labor Law Posters 46 PDFS
Minimum-Wage.org provides an additional 45 required and optional Federal labor law posters that may be relevant to your business. Be sure to also print and post all required state labor law posters, as well as all of the mandatory federal labor law posters.

List of all 46 Federal labor law posters
---
Federal Labor Law Poster Sources:
Labor Poster Disclaimer:
While Minimum-Wage.org does our best to keep our list of Federal labor law posters updated and complete, we provide this free resource as-is and cannot be held liable for errors or omissions. If the poster on this page is out-of-date or not working, please send us a message and we will fix it ASAP.