Coronavirus Business Guidance Poster
Florida Coronavirus Business Guidance Poster
The Coronavirus Business Guidance Poster is a Florida coronavirus notice poster provided for businesses by the Florida Department Of Economic Opportunity. This is an optional notification, so while it is recommended that businesses hang this poster if relevant to their employees, it is not required by the Department Of Economic Opportunity.
Florida Department of Health   •   FloridaHealthCOVID.gov	
CO V I D -	 	
Guidance for Businesses & Employees	
Reduce Transmission Among Employees
Encourage sick employees to stay home 
Perform Routine Cleaning and 
Disinfection Advise Employees Before Travel
Maintain a Healthy Work 
Environment
Have Flexible Sick Leave Policies
  Employees who have symptoms (cough or shortness of breath) should notify their 
supervisor and stay home. Other COVID- symptoms include fever, chills, shaking, muscle pain, 
headaches, sore throat and a new loss of taste or smell.	
  Employees should not return to work until the criteria to discontinue home isolation are met, in consultation 
with healthcare providers. Learn more at tinyurl.com/vgxaq .	
  Employees who are well but who have a sick family member at home with COVID- should notify their 
supervisor.  Follow the Centers for Disease Control and Prevention's (CDC) recommended precautions at 
tinyurl.com/sdfp .	
  Reduce the in-office workforce to % by encouraging employees to telecommute if possible.	
  For more information, refer to the Florida Public Health Advisory at FloridaHealthCOVID.gov/News .	
  State officials suggest that employers require their 
employees to wear face masks.	
  Provide tissues and no-touch disposal receptacles 
if possible.	
  Provide soap and water in the 
workplace. 	
  Place hand sanitizers with at 
least % alcohol  in multiple 
locations to encourage hand 
hygiene.	
  Discourage handshaking— 
encourage the use of other 
noncontact methods of greeting.	
   Encourage	 social distancing by  maintaining a 
distance of  feet from others when possible.	
  Ensure that sick leave policies are flexible and 
consistent with public health guidance and that 
employees are aware of and understand these 
policies.	
  Maintain flexible policies that permit 
employees to stay home to care for a sick 
family member or take care of children 
due to school and childcare closures.	
  Employers should not require a 
positive COVID- test result or a healthcare 
provider's (HCP) note for employees who are sick to 
validate their illness, qualify for sick leave, or to return 
to work. HCP offices and medical facilities may be 
extremely busy and not able to provide such 
documentation quickly.	
  Routinely clean and disinfect all frequently touched 
surfaces in the workplace, such as workstations, 
keyboards, telephones, handrails, and doorknobs. 	
  Discourage workers from using other workers' 
phones, desks, offices, or other work tools and 
equipment, when possible. If necessary, clean 
and disinfect them before and after use.	
  Provide disposable wipes so that 
commonly used surfaces can be wiped 
down by employees before each use.	
  Check the CDC's Traveler's Health Notices for the 
latest guidance and recommendations for each 
country to which you will travel.	
  Advise employees to check themselves for 
symptoms of COVID- (cough or shortness of 
breath, fever chills, shaking, muscle pain, headaches, 
sore throat and a new loss of taste or smell) before 
starting travel and notify their supervisor and stay 
home if they are sick.	
  Ensure employees who become sick while traveling 
or on temporary assignment understand that they 
should notify their supervisor and promptly call a 
healthcare provider for advice if needed.	
Florida Health Office of Communications --
---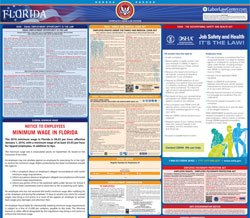 Instead of printing out pages of mandatory Florida and Federal labor law posters, you can purchase a professional, laminated all-in-one labor law poster that guarantees compliance with all Florida and federal posting requirements. Fully updated for September 2017!
Get All-In-One Poster Now
More Florida Labor Law Posters 11 PDFS
Minimum-Wage.org provides an additional ten required and optional Florida labor law posters that may be relevant to your business. Be sure to also print and post all required state labor law posters, as well as all of the mandatory federal labor law posters.

List of all 11 Florida labor law posters
---
Florida Labor Law Poster Sources:
Labor Poster Disclaimer:
While Minimum-Wage.org does our best to keep our list of Florida labor law posters updated and complete, we provide this free resource as-is and cannot be held liable for errors or omissions. If the poster on this page is out-of-date or not working, please send us a message and we will fix it ASAP.