Florida Law Prohibits Discrimination Poster
Florida Law Prohibits Discrimination Poster
Mandatory
The Florida Law Prohibits Discrimination Poster is a Florida equal opportunity law poster provided for businesses by the Florida Department Of Economic Opportunity. This is a required poster for all Florida employers, and any business that fails to post this notification may be subject to penalties or fines.
This bilingual poster is a brief summary that discrimination is illegal in Florida. It summarizes what is covered under the law and how to contact them to report cases of suspected discrimination.
Poster PDF

Bilingual Poster

Required for All

Equal Opportunity Law
LA LEY DE LA FLORIDA	
¡Si usted siente que ha sido discriminado,
visite nuestra página web o llámenos!	
LA COMISIÓN DE RELACIONES 
HUMANAS DE LA FLORIDA	
4075 Esplanade Way, Suite 110
Tallahassee, Florida 32399
KWWS)&+5VWDWHÀXV	Teléfono: (850)  488-7082
Correo de Voz: 1-800-342-8170	
DISCRIMINACIÓN	
PROHIBE	
RAZA, COLOR, RELIGIÓN, SEXO, ORIGEN NACIONAL,
 INCAPACIDAD, EDAD, EMBARAZO, O ESTADO CIVIL.	LO QUE ESTÁ CUBIERTO BAJO LA LEY:	
• EMPLEO
• LUGARES DE ACOMODO PÚBLICO
• ACCIÓN VENGATIVE  DESPUES
DE PRESENTAR UNA QUEJA
• ACCIÓN VENGATIVA EN CONTRA DE PRESENTAR UNA QUEJA 
BAJO LALEY DE "SOPLAÓN" (WHISTLE-BLOWER)	
BASADA EN:	
FLORIDA LAW	
DISCRIMINATION	
PROHIBITS	
RACE, COLOR, RELIGION, SEX, NATIONAL ORIGIN, 
DISABILITY, AGE, PREGNANCY OR MARITAL STATUS.	WHAT IS COVERED UNDER THE LAW:	
• EMPLOYMENT
• PUBLIC ACCOMMODATIONS
•RETALIATION AFTER FILING A CLAIM
• STATE EMPLOYEE WHISTLE-BLOWER RETALIATION	BASED ON:	
If you feel that you have been discriminated against,
visit our web site or call us!	FLORIDA COMMISSION ON 
HUMAN RELATIONS	
4075 Esplanade Way, Suite 110
Tallahassee, Florida 32399
KWWS)&+5VWDWHÀXV	Phone: (850) 488-7082
Voice Messaging	
 1-800-342-8170
---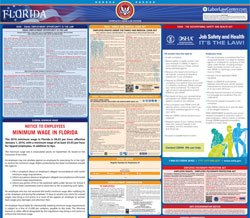 Instead of printing out pages of mandatory Florida and Federal labor law posters, you can purchase a professional, laminated all-in-one labor law poster that guarantees compliance with all Florida and federal posting requirements. Fully updated for September 2017!
Get All-In-One Poster Now
More Florida Labor Law Posters 11 PDFS
Minimum-Wage.org provides an additional ten required and optional Florida labor law posters that may be relevant to your business. Be sure to also print and post all required state labor law posters, as well as all of the mandatory federal labor law posters.

List of all 11 Florida labor law posters
---
Florida Labor Law Poster Sources:
Labor Poster Disclaimer:
While Minimum-Wage.org does our best to keep our list of Florida labor law posters updated and complete, we provide this free resource as-is and cannot be held liable for errors or omissions. If the poster on this page is out-of-date or not working, please send us a message and we will fix it ASAP.