Minimum Wage Poster (Spanish)
Florida Minimum Wage Poster (Spanish)
The Minimum Wage Poster (Spanish) is a Florida minimum wage law poster provided for businesses by the Florida Department Of Economic Opportunity. This notification is required for some employers, such as employers with spanish-speaking employees.
This poster contains information in Spanish on minimum wage in Florida. It is a quick summary of the entitlements employees in Florida have. Procedures for violations are also includes as well as penalties to employers.
Poster PDF

Spanish Language Poster

Required for Some

Minimum Wage Poster

Minimum Wage Law
AVISO A LOS EMPLEADOS 
SALARIO MÍNIMO   EN FLORIDA  	
 
El salario mínimo en Florida  en el 2020 es  $8.56  por hora;  es  efectivo en  enero 1, 20 20; 
e  incluye  un salario mínimo de por lo menos $5. 54 por hora  para empleados 
propinados , incluyendo propinas .   
 
El  salario  mínimo  es re calculado  anualmente  el 30  septiembre, basándose en el Índice de 
Precios al Consumidor.  
 
Un  patrono  no puede tomar represalias contra un empleado que quiere  ejercer su derecho 
a recibir el salario mínimo. Los derechos que protegen  la Constitución del Estado incluyen 
el derecho a:  
  1. Someter  una querella  contra un  patrono  que alegadamente no esta cumpliendo 
con los requisitos legales de salario mínimo.  
 
2. Reportar a un patrono que alegadamente no esta cumpliendo con los requisitos 
legales de salario mínimo.  
 
3. Traer a alusión  sus derechos como trabajador,  conformes a la Sección 24, 
Artículo  X de la Constitución del Estado,  diseñada para que el empleado pueda 
afirmar tales  derechos. 
 
Si un empleado no  esta recibiendo  su salario mínimo legal;  debe notificarlo  a su patrono  y 
darle  15 días para resolver el problema.  Si el problema no es resuelto, el empleado tiene 
derecho a  radicar una acción  civil contra su patrono en un tribunal  legal,  con el fin de 
recuperar los salarios atrasados, incluyendo daños y perjuicios,  y honorarios de abogado. 
 
Un  patrono  que sea declarado culpable de violar intencionalmente los requisitos de salario 
mínimo, está sujeto a pagar una multa de $1,000 por cada infracción, pagadera al estado.  
El Procurador General  o funcionario designado por la Legislatura puede radicar  una acción 
civil para enforzar el salario mínimo.  
 
Para detalles, lea  la Sección 24, Artículo X de la Constitución del Estado, y la Sección 
448.110 de los Estatutos de Florida.
---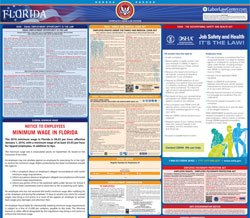 Instead of printing out pages of mandatory Florida and Federal labor law posters, you can purchase a professional, laminated all-in-one labor law poster that guarantees compliance with all Florida and federal posting requirements. Fully updated for August 2017!
Get All-In-One Poster Now
More Florida Labor Law Posters 11 PDFS
Minimum-Wage.org provides an additional ten required and optional Florida labor law posters that may be relevant to your business. Be sure to also print and post all required state labor law posters, as well as all of the mandatory federal labor law posters.

List of all 11 Florida labor law posters
---
Florida Labor Law Poster Sources:
Labor Poster Disclaimer:
While Minimum-Wage.org does our best to keep our list of Florida labor law posters updated and complete, we provide this free resource as-is and cannot be held liable for errors or omissions. If the poster on this page is out-of-date or not working, please send us a message and we will fix it ASAP.