RT-83 Florida Reemployment Assistance Program Law
RT-83 Florida Reemployment Assistance Program Law Poster
The RT-83 Florida Reemployment Assistance Program Law is a Florida miscellaneous law poster provided for businesses by the Florida Department Of Economic Opportunity. This notification is required for some employers, such as employers who qualify.
This mandatory poster is a brief summary of Florida's Reemployment Assistance Program. This poster explains who may be eligible for compensation benefits under this law. Instructions for how to claim such benefits are also included.
R T- 8 3
R. 08/23	
To Employees:	
• 	 Your Employer 	is registered with the Florida Department of Revenue as an employer who is	
liable under the Florida Reemployment Assistance Law. This means that 	Yo u	, as employees, 	
are covered by the Reemployment Assistance Program, formerly known as Unemployment 
Compensation Program.	
• 	 Reemployment assistance taxes 	finance the benefits paid to eligible unemployed workers.	 	
Those taxes are paid by your employer and, by law, cannot be deducted from 
employee's wages.	
• 	You may be eligible to receive reemployment assistance benefits if you meet the following 
requirements:	
1. 	You must be totally or partially unemployed through no fault of your own.	
2.  	You must apply for benefits at 	https://connect.myflorida.com	.	
3. 	You must register for work at 	www.employflorida.com	.	
4. 	You must have a history of sufficient employment and wages.	
5.  	You must be 	Able	 to work and 	Available	 for work.	
• 	You may file a claim for partial unemployment for any week you work less than full time due to 
lack of work if your wages during that week are less than your weekly benefit amount.	
• 	You must report all earnings while claiming benefits. Failure to do so is a third-degree felony 
with a maximum penalty of 5 years imprisonment and a $5,000 fine.	
• 	Discharges related to misconduct connected with work may result in disqualification with a 
penalty period 	AND	 remain in effect until a set amount of wages have been earned with new 	
employment.	
• 	Voluntarily quitting a job without good cause attributable to the employer may result in 
disqualification until a set amount of wages have been earned with new employment.	
• 	If you have any questions regarding reemployment assistance benefits, contact the Florida 
Department of Commerce, Reemployment Assistance Program at:	
Florida Department of Commerce
Division of Workforce Services	
Reemployment Assistance Program	
1-800-204-2418 	 	
www.floridajobs.org	
This notice must be posted in accordance with Section 443.151(1) Florida Statutes, of the Florida 
Reemployment Assistance Program Law.
---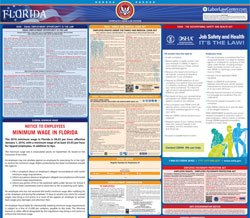 Instead of printing out pages of mandatory Florida and Federal labor law posters, you can purchase a professional, laminated all-in-one labor law poster that guarantees compliance with all Florida and federal posting requirements. Fully updated for September 2017!
Get All-In-One Poster Now
More Florida Labor Law Posters 11 PDFS
Minimum-Wage.org provides an additional ten required and optional Florida labor law posters that may be relevant to your business. Be sure to also print and post all required state labor law posters, as well as all of the mandatory federal labor law posters.

List of all 11 Florida labor law posters
---
Florida Labor Law Poster Sources:
Labor Poster Disclaimer:
While Minimum-Wage.org does our best to keep our list of Florida labor law posters updated and complete, we provide this free resource as-is and cannot be held liable for errors or omissions. If the poster on this page is out-of-date or not working, please send us a message and we will fix it ASAP.