Child Labor Poster
Kansas Child Labor Poster
The Child Labor Poster is a Kansas child labor law poster provided for businesses by the Kansas Department Of Labor. This notification is required for some employers, such as employers of minors.
This mandatory poster is a summary of Kansas child labor laws. It includes violations rules and how children are allowed to work. Contact information is included for those who wish to know more.
Employment Standards
401 SW Topeka Blvd.
Topeka, KS 66603-3182
(785) 296-5000
www.dol.ks.gov 	
Notice of Hours	
(CHILD LABOR)	
IT SHALL BE A VIOLATION OF LAW for any child under 16 years of age to be employed, permitted or suffered to 
work in the business establishment before 7 a.m., or after 10 p.m., on d\
ays preceding a school day, or for more than 
eight hours per day, or 40 hours per week when school is not in session.
FURTHER, IT SHALL BE A VIOLATION OF LAW to employ, permit or suffer to work any child under 18 years of age 
in any vocation which has been declared by Rule or Regulation of the Sec\
retary of Labor to be dangerous or injurious 
to the life, health, morals or welfare of a minor.
WORK PERMITS SHALL BE REQUIRED when the minor is under 16 years of age and ONLY when such minor is 
NOT enrolled in or attending any secondary school.
NOTICE OF HOURS (KSA 38-605) that every employer  shall keep this notice posted in a conspicuous place near the 
principal entrance in an establishment  where children under 16 years of age are employed , 
permitted or suffered to work. This notice shall state the maximum number of hours each 
child may be required or permitted to work, on each day of the week, the\
 hours of 
commencing and stopping work and the hours allowed for dinner and other \
meals.	
This poster is not required and should not be posted if you are covered \
under the 
Federal Child Labor Law. If you are unsure, it is suggested that you contact the U.S. 
Department of Labor for information. You may contact the following federal office:
Wage and Hour DivisionGateway Tower II
400 State Ave., Suite 1010 Kansas City, KS 66101 (913) 551-5721
Toll Free (866) 487-9243	
K-ESLR 100 (Rev. 5-12)
---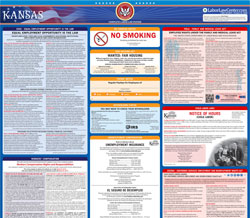 Instead of printing out pages of mandatory Kansas and Federal labor law posters, you can purchase a professional, laminated all-in-one labor law poster that guarantees compliance with all Kansas and federal posting requirements. Fully updated for April 2017!
Get All-In-One Poster Now
More Kansas Labor Law Posters 15 PDFS
Minimum-Wage.org provides an additional fourteen required and optional Kansas labor law posters that may be relevant to your business. Be sure to also print and post all required state labor law posters, as well as all of the mandatory federal labor law posters.

List of all 15 Kansas labor law posters
---
Kansas Labor Law Poster Sources:
Labor Poster Disclaimer:
While Minimum-Wage.org does our best to keep our list of Kansas labor law posters updated and complete, we provide this free resource as-is and cannot be held liable for errors or omissions. If the poster on this page is out-of-date or not working, please send us a message and we will fix it ASAP.