If You are Sick with COVID-19
Kansas If You are Sick with COVID-19 Poster
The If You are Sick with COVID-19 is a Kansas coronavirus notice poster provided for businesses by the Kansas Department Of Labor. This is an optional notification, so while it is recommended that businesses hang this poster if relevant to their employees, it is not required by the Department Of Labor.
If you are sick with COVID-19	
03/2020	
Stay home except to get medical care.
People who are mildly ill with COVID-19 are able to isolate at home duri\
ng their 
illness. You should restrict activities outside your home, except for getting medi\
cal 
care. Do not go to work, school or public areas. Avoid using public transportation, 
ride-sharing or taxis.
Separate yourself from other people in your home.
As much as possible, you should stay in a specific room and away from other 
people in your home. Use a separate bathroom if you can. Do not share pe\
rsonal 
household items like dishes, towels, bedding, or eating utensils.
Call ahead before visiting your doctor.
If you have a medical appointment, call the healthcare provider and tell\
 them that 
you have or may have COVID-19. This will help the provider's office take steps to 
keep other people from being exposed.
Wash your hands often.
Wash your hands with soap and water for at least 20 seconds frequently, but 
especially after blowing your nose, coughing or sneezing. Wash your hands 
before eating or preparing food. If soap and water aren't available, \
use 
alcohol-based hand sanitizer with at least 60% alcohol. Avoid touching your face.
Clean high-touch surfaces everyday.
These surfaces include counters, tabletops, doorknobs, bathroom fixtures, 
phones, keyboards and bedside tables.Use diluted household bleach soluti\
ons 
(4 teaspoons per quart of water), alcohol solutions with at least 70% \
alcohol, or 
most common EPA-registered household disinfectants. You can find a list of these 
disinfectants at https://www.americanchemistry.com/Novel-Coronavirus-Fighting-
Products-List.pdf.
Monitor your symptoms.
Seek prompt medical attention if your symptoms or illness worsens. Call \
your 
healthcare provider ahead of time to let them know you are coming. Call \
911 if 
you have a medical emergency and notify dispatch that you have or are be\
ing 
evaluated for COVID-19.
---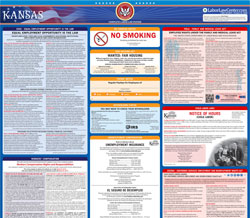 Instead of printing out pages of mandatory Kansas and Federal labor law posters, you can purchase a professional, laminated all-in-one labor law poster that guarantees compliance with all Kansas and federal posting requirements. Fully updated for April 2017!
Get All-In-One Poster Now
More Kansas Labor Law Posters 15 PDFS
Minimum-Wage.org provides an additional fourteen required and optional Kansas labor law posters that may be relevant to your business. Be sure to also print and post all required state labor law posters, as well as all of the mandatory federal labor law posters.

List of all 15 Kansas labor law posters
---
Kansas Labor Law Poster Sources:
Labor Poster Disclaimer:
While Minimum-Wage.org does our best to keep our list of Kansas labor law posters updated and complete, we provide this free resource as-is and cannot be held liable for errors or omissions. If the poster on this page is out-of-date or not working, please send us a message and we will fix it ASAP.