Coronavirus vs Cold vs Flu vs Allergies
Kansas Coronavirus vs Cold vs Flu vs Allergies Poster
The Coronavirus vs Cold vs Flu vs Allergies is a Kansas coronavirus notice poster provided for businesses by the Kansas Department Of Labor. This is an optional notification, so while it is recommended that businesses hang this poster if relevant to their employees, it is not required by the Department Of Labor.
Department of Healthand Environmen t	COVID-19COVID-19	
CORONAVIRUS	 vs.	 COLD	 vs.	 FLU	 vs.	 ALLERGIES	
SYMPTOMS COVID-19*COLDFLUALLERGIES	
           Fever	
Common 	 	
(measured at 100 F 
or higher)	Rare	High (100-102 F), 
can last 3-4 days	No	
           Headache	Sometimes RareIntenseSometimes	
           General      
           aches, pains	Sometimes SlightCommon, often 
severe No	
           Fatigue,  
           weakness	Sometimes SlightCommon, often 
severe Sometimes	
           Extreme  
           exhaustion	Sometimes
(progresses 	 	
slowly)	
Never Common 
(starts early) No	
           Stuffy nose	Rare
CommonSometimesCommon	
           Sneezing	Rare CommonSometimesCommon	
           Sore throat	Rare CommonCommonNo	
           Cough	Common	Mild to moderate	Common, can 
become severe Sometimes	
           Shor tness
 
           of  breath	In more 	 	
serious infections	Rare RareCommon	
           Runny nose	Rare CommonSometimesCommon	
           Diarrhea	Sometimes NoSometimes**No	
Sources: KDHE, CDC, WHO, National Institute of Allergy and Infectious Diseases, American College of Allergy, Asthma and Immunology.	
For more information:  www.kdheks.gov/coronavirus	
* Information is still evolving.
** Sometimes for children.
---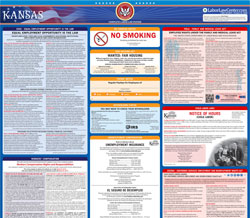 Instead of printing out pages of mandatory Kansas and Federal labor law posters, you can purchase a professional, laminated all-in-one labor law poster that guarantees compliance with all Kansas and federal posting requirements. Fully updated for April 2017!
Get All-In-One Poster Now
More Kansas Labor Law Posters 15 PDFS
Minimum-Wage.org provides an additional fourteen required and optional Kansas labor law posters that may be relevant to your business. Be sure to also print and post all required state labor law posters, as well as all of the mandatory federal labor law posters.

List of all 15 Kansas labor law posters
---
Kansas Labor Law Poster Sources:
Labor Poster Disclaimer:
While Minimum-Wage.org does our best to keep our list of Kansas labor law posters updated and complete, we provide this free resource as-is and cannot be held liable for errors or omissions. If the poster on this page is out-of-date or not working, please send us a message and we will fix it ASAP.