Coronavirus Notice What is a Dental Emergency Poster
Kansas Coronavirus Notice What is a Dental Emergency Poster
The Coronavirus Notice What is a Dental Emergency Poster is a Kansas coronavirus notice poster provided for businesses by the Kansas Department Of Labor. This is an optional notification, so while it is recommended that businesses hang this poster if relevant to their employees, it is not required by the Department Of Labor.
What is a Dental Emergency?	Department of Healthand Environmen t	
For more information, visit MouthHealthy.org/virus.	
Dental care	 you can	
reschedule 	for another time:	
Dental care that you 	should 	
have taken care of by a 
dentist 	at this time:	
• 	Regular visits for exams, cleanings, 
and x-rays	
• 	Regular visits for braces	
• 	Removal of teeth that aren't painful	
• 	Treatment of cavities that aren't 
painful	
• 	Tooth whitening	
• 	Bleeding that doesn't stop	
• 	Painful swelling in or around your 
mouth	
• 	Pain in a tooth, teeth or jaw bone	
• 	Gum infection with pain or swelling	
• 	After surgery treatment (dressing 
change, stitch removal)	
• 	Broken or knocked out tooth	
• 	Denture adjustment for people receiving 
radiation or other treatment for cancer	
• 	Snipping or adjusting wire of braces 
that hurts your check or gums	
• 	Biopsy of abnormal tissue	
The American Dental Association (ADA) recognizes that members of the public have questions\
 about 
whether they should continue to visit their dentist during the COVID-19 \
pandemic. Because the ADA 
is currently recommending dentists close their offices to all but emergency care, we have provided 
guidelines to help patients determine when to consult with their dentist\
 as to whether care should be 
rescheduled. When in doubt, please call your dentist to determine the be\
st course of action.
---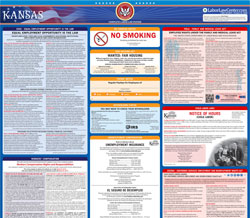 Instead of printing out pages of mandatory Kansas and Federal labor law posters, you can purchase a professional, laminated all-in-one labor law poster that guarantees compliance with all Kansas and federal posting requirements. Fully updated for April 2017!
Get All-In-One Poster Now
More Kansas Labor Law Posters 15 PDFS
Minimum-Wage.org provides an additional fourteen required and optional Kansas labor law posters that may be relevant to your business. Be sure to also print and post all required state labor law posters, as well as all of the mandatory federal labor law posters.

List of all 15 Kansas labor law posters
---
Kansas Labor Law Poster Sources:
Labor Poster Disclaimer:
While Minimum-Wage.org does our best to keep our list of Kansas labor law posters updated and complete, we provide this free resource as-is and cannot be held liable for errors or omissions. If the poster on this page is out-of-date or not working, please send us a message and we will fix it ASAP.