Coronavirus When to Seek Medical Attention Poster
Kansas Coronavirus When to Seek Medical Attention Poster
The Coronavirus When to Seek Medical Attention Poster is a Kansas coronavirus notice poster provided for businesses by the Kansas Department Of Labor. This is an optional notification, so while it is recommended that businesses hang this poster if relevant to their employees, it is not required by the Department Of Labor.
The purpose of the Coronavirus Self-Checker is to help you make decision\
s 
about seeking appropriate medical care.  This system is not intended for the 
diagnosis or treatment of disease or other conditions, including COVID-1\
9. This 
system is intended only for people who are currently located in the Unit\
ed States.
This project was made possible through a partnership with the CDC Founda\
tion and 
is enabled by Microsoft's Azure platform. CDC's collaboration with a non-federal 
organization does not imply an endorsement of any one particular service\
, product, 
or enterprise.
The Coronavirus Self-Checker is free and user friendly. You may access this 
by clicking the Coronavirus Self Checker on the CDC Symptoms and Testing 
website page by  clicking here.	
Do I Need To Seek Medical Attention?
Coronavirus Self-Checker Now Available
---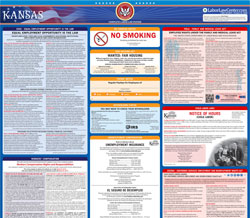 Instead of printing out pages of mandatory Kansas and Federal labor law posters, you can purchase a professional, laminated all-in-one labor law poster that guarantees compliance with all Kansas and federal posting requirements. Fully updated for April 2017!
Get All-In-One Poster Now
More Kansas Labor Law Posters 15 PDFS
Minimum-Wage.org provides an additional fourteen required and optional Kansas labor law posters that may be relevant to your business. Be sure to also print and post all required state labor law posters, as well as all of the mandatory federal labor law posters.

List of all 15 Kansas labor law posters
---
Kansas Labor Law Poster Sources:
Labor Poster Disclaimer:
While Minimum-Wage.org does our best to keep our list of Kansas labor law posters updated and complete, we provide this free resource as-is and cannot be held liable for errors or omissions. If the poster on this page is out-of-date or not working, please send us a message and we will fix it ASAP.