Workers' Compensation Poster
Massachusetts Workers' Compensation Poster
Mandatory
The Workers' Compensation Poster is a Massachusetts workers compensation law poster provided for businesses by the Massachusetts Department Of Labor and Workforce Development. This is a required poster for all Massachusetts employers, and any business that fails to post this notification may be subject to penalties or fines.
This mandatory poster is a detailed summary of Massachusetts workers compensation rights and responsibilities. It details how employees should report any injuries that occur on the job and what benefits may be available. The employer's insurance carrier information is to be filled in on the bottom.
Poster PDF

Required for All

Workers Compensation Law
NOTICE TO 
EMPLOYEES  NOTICE 
TO 
EMPLOYEES 	
 
 	
The Commonwealth of Massachusetts  	
DEPARTMENT OF INDUSTRIAL ACCIDENTS  	
LAFAYETTE CITY CENTER, 2 AVENUE DE LAFAYETTE, BOSTON, MA 02111 	
(617) 727-4900 – www. mass.gov/dia  	
As required by Massachusetts General Law, Chapter 152, Sections 21, 22 & 30, this will give you notice 
that I (we) have provided for payment to our injured employees under the above-mentioned chapter by  insuring with: 	
  	
NAME OF INSURANCE COMPANY 	
 	
ADDRESS OF INSURANCE COMPANY 	
 
POLICY NUMBER   EFFECTIVE DATES  
 
NAME OF  INSURANCE  AGENT   ADDRESS  PHONE # 
 
EMPLOYER   ADDRESS 
 
EMPLOYER'S WORKERS' COMPENSATION OFFICER  (IF  ANY)   DATE 
 
 
 	
MEDICAL TREATMENT 	
The above named  insurer is required in cases of personal injuries arising out of and in the course of 
employment to furnish adequate and reasonable hospital and medical services in accordance with the 
provisions of the Workers' Compensation Act. A copy of the First Report of Injury must be given to the 
injured employee. The employee may select his or her own physician. The reasonable cost of the ser- 
vices provided by the treating physician will be paid by the insurer, if the treatment is necessary and 
reasonably connecte d to the work related injury. In cases requiring hospital attention, employees are 
hereby notified that the insurer has arranged for such attention at the 	
 
 	
NAME  OF  HOSPITAL   ADDRESS 	
TO BE POSTED BY EMPLOYER
---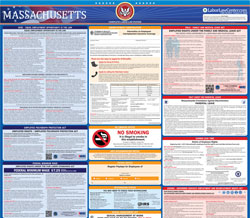 Instead of printing out pages of mandatory Massachusetts and Federal labor law posters, you can purchase a professional, laminated all-in-one labor law poster that guarantees compliance with all Massachusetts and federal posting requirements. Fully updated for December 2017!
Get All-In-One Poster Now
More Massachusetts Labor Law Posters 13 PDFS
Minimum-Wage.org provides an additional twelve required and optional Massachusetts labor law posters that may be relevant to your business. Be sure to also print and post all required state labor law posters, as well as all of the mandatory federal labor law posters.

List of all 13 Massachusetts labor law posters
---
Massachusetts Labor Law Poster Sources:
Labor Poster Disclaimer:
While Minimum-Wage.org does our best to keep our list of Massachusetts labor law posters updated and complete, we provide this free resource as-is and cannot be held liable for errors or omissions. If the poster on this page is out-of-date or not working, please send us a message and we will fix it ASAP.