Workers' Compensation Poster (Spanish)
Massachusetts Workers' Compensation Poster (Spanish)
Mandatory
The Workers' Compensation Poster (Spanish) is a Massachusetts workers compensation law poster provided for businesses by the Massachusetts Department Of Labor and Workforce Development. This is a required poster for all Massachusetts employers, and any business that fails to post this notification may be subject to penalties or fines.
This mandatory Spanish poster is a detailed summary of Massachusetts workers compensation rights and responsibilities. It details how employees should report any injuries that occur on the job and what benefits may be available. The employer's insurance carrier information is to be filled in on the bottom.
Poster PDF

Spanish Language Poster

Required for All

Workers Compensation Law
AVISO PARA 
EMPLEADOS   AVISO PARA 
EMPLEADOS  	
 
 
 
 	
The Commonwealth of  Massachusetts  
DEPARTMENT OF INDUSTRIAL  ACCIDENTS  	
Lafayette City Center, 2 A venue  de Lafayette, Boston, MA 02111-1750 
(617 ) 727 -4900  - www.mass.gov/dia	
 	
 	
De acuerdo con lo dispuesto por los artículos 21, 22 y 30 del capítulo 152 de las Leyes 
Generales de Massachuss ets, por el presente notificamos que hemos previsto el pago a 
nuestros empleados lesionados, conforme al capítulo antes mencionado, mediante un 
seguro con: 
 	
 	
NOMBRE DE LA COMPAÑÍA DE SEGURO  	 	
DOMICILIO DE LA COMPAÑÍA DE SEGURO  	
            _______________________________________________________________________________________________  	NÚMERO DE PÓLIZA   FECHAS DE VIGENCIA  	 	
NOMBRE DEL AGENTE  DE  SEGUROS  DOMICILIO   TELÉFONO 	 	
EMPLEADOR   DOMICILIO 	 	
FUNCIONARIO DEL EMPLEADOR PARA ACCIDENTES DE TRABAJO  (SI HUBIERA)  FECHA  	
TRATAMIENTO MÉDICO 
 	
En caso de lesiones personales ocurridas a raíz del trabajo o durante el trabajo, la 
aseguradora cuyo nombre aparece arriba debe prestar servicios médicos y hospitalarios 
adecuados razonables de acuerdo con lo dispuesto por la Ley de Acc identes de Trabajo. 
El empleado lesionado debe recibir una copia del Primer Informe de Lesión. El empleado 
puede elegir su propio médico. El costo razonable de los servicios prestados por el 
médico que asista en el caso será abonado por la aseguradora, siempre que el tratamiento 
sea necesario y esté razonablemente relacionado con la lesión ocupacional. En caso de 
que se necesite atención hospitalaria, por la presente se notifica a los empleados que la 
aseguradora ha dispuesto que esa atención sea prestada en: 	
 	
NOMBRE  DEL  HOSPITAL   DOMICILIO 
 	
ANUNCIO PUBLICADO POR EL EMPLEADOR
---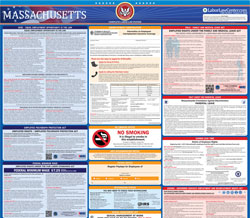 Instead of printing out pages of mandatory Massachusetts and Federal labor law posters, you can purchase a professional, laminated all-in-one labor law poster that guarantees compliance with all Massachusetts and federal posting requirements. Fully updated for January 2017!
Get All-In-One Poster Now
More Massachusetts Labor Law Posters 13 PDFS
Minimum-Wage.org provides an additional twelve required and optional Massachusetts labor law posters that may be relevant to your business. Be sure to also print and post all required state labor law posters, as well as all of the mandatory federal labor law posters.

List of all 13 Massachusetts labor law posters
---
Massachusetts Labor Law Poster Sources:
Labor Poster Disclaimer:
While Minimum-Wage.org does our best to keep our list of Massachusetts labor law posters updated and complete, we provide this free resource as-is and cannot be held liable for errors or omissions. If the poster on this page is out-of-date or not working, please send us a message and we will fix it ASAP.