Workplace Safety and Health Protection for Public Employees
Massachusetts Workplace Safety and Health Protection for Public Employees Poster
The Workplace Safety and Health Protection for Public Employees is a Massachusetts general labor law poster poster provided for businesses by the Massachusetts Department Of Labor and Workforce Development. This notification is required for some employers, such as all employers.
Poster PDF

Required for Some

General Labor Law Poster
THE 	COMMONWEALTH OF 	MASSACHUSETTS	
EXECUTIVE 	OFFICE OF 	LABOR AND 	WORKFORCE 	DEVELOPMENT	
DEPARTMENT OF 	LABOR 	STANDARDS	
 Massachusetts General Law Chapter 149, §§ 6 and 6-1/2  provide job safety and health 
protection for state, municipal and county workers through the promotion of safe and 
healthful work conditions. In addition, 454 CMR 25 directly extends OSHA regulations to 
executive branch state agencies.	
 
Employers:    Employers are required to provide procedures, equipment and training  
to prevent work-related injuries and illnesses. 
Employees:    Employees are required to comply with the policies and procedures 
established in their workplace to reduce work-related injuries  
and illnesses. 
Inspection:    The Department of Labor Standards ("DLS") may conduct an on-site 
inspection to evaluate workplace conditions and make recommendations 
for the prevention of work-related injuries and illnesses. See "Inspection 
Summary" at www.mass.gov/dols/wshp.
Enforcement:     DLS may issue a Written Warning which contains an Order to Correct when 
an inspection reveals a condition which could cause a work-related injury 
or illness. DLS may issue a Civil Citation with Civil Penalty in circumstances 
when the employer repeatedly allows an unsafe condition to occur, 
the condition has already caused a serious work-related injury, or if the 
employer has ignored a previous Written Warning	
.  
Voluntary     Public sector workplaces may request technical assistance by contacting 
Assistance:    DLS at 508-616-0461 or [email protected] There are no 
written warnings or penalties issued for voluntary assistance.   
Complaints:    Public employees or their representatives may file a complaint about 
safety and health conditions at their workplace by contacting DLS at  
508-616-0461 or [email protected]  
Safety and Health     Sample safety programs and technical bulletins are available at 
Management:  www.mass.gov/dols/wshp. 	
 	
  www.mass.gov/dols/wshp                          508-616-0461	
Massachusetts Workplace Safety and Health Protection 
for Public Employees	
     
     
  Rev. 3-15
---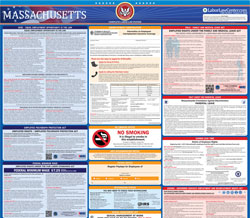 Instead of printing out pages of mandatory Massachusetts and Federal labor law posters, you can purchase a professional, laminated all-in-one labor law poster that guarantees compliance with all Massachusetts and federal posting requirements. Fully updated for January 2017!
Get All-In-One Poster Now
More Massachusetts Labor Law Posters 13 PDFS
Minimum-Wage.org provides an additional twelve required and optional Massachusetts labor law posters that may be relevant to your business. Be sure to also print and post all required state labor law posters, as well as all of the mandatory federal labor law posters.

List of all 13 Massachusetts labor law posters
---
Massachusetts Labor Law Poster Sources:
Labor Poster Disclaimer:
While Minimum-Wage.org does our best to keep our list of Massachusetts labor law posters updated and complete, we provide this free resource as-is and cannot be held liable for errors or omissions. If the poster on this page is out-of-date or not working, please send us a message and we will fix it ASAP.