Cartel de Seguridad e Higiene de Oregon OSHA (Spanish)
Cartel de Seguridad e Higiene de Oregon OSHA (Spanish) Poster
Mandatory
The Cartel de Seguridad e Higiene de Oregon OSHA (Spanish) is an Oregon job safety law poster provided for businesses by the Oregon Bureau Of Labor and Industry. This is a required poster for all Oregon employers, and any business that fails to post this notification may be subject to penalties or fines.
This is a state labor posting enforced by the Occupational Safety and Health Administration (OSHA) through the state bureau of labor and industries. It is a mandatory posting required of all employers operating within the state. It is a summary of the OSHA of 1970, which provides for job safety and health protection for workers through the promotion of safe and healthful working conditions throughout the state. In the poster are responsibilities of employers as regards safety of employees and their rights as provided for by the Act. The poster also contains provisions of the Act guiding application of complaints and prohibition against any retaliatory action based on such complaints. The poster should be displayed at a conspicuous place where all employees can access.
Poster PDF

Spanish Language Poster

Required for All

Job Safety Law
¡ES 	
LA 	
LEY!	
Usted tiene 	
derecho a un lugar 	
de trabajo seguro 	 	
y saludable	
Español:	 	
1-800-843-8086
osha.oregon.gov
PARA MAS INFORMACION, copias de la 
Ley de Seguridad en el Trabajo de Oregon, 
normas específicas de seguridad y salud, 
asesoramiento o asistencia, llame a:
Oficina Central (Salem)	  ..	503-378-3272	
Bend	 ................................	541-388-6066	
Eugene	 ............................	541-686-7562	
Medford	 ..........................	541-776-6030	
Pendleton	 ........................	541-276-9175	
Portland	 ..........................	503-229-5910	
Salem	 ...............................	503-378-3274	
440-1507-S (10/16/OR-OSHA)	
¡Este cartel debe ser fijado en un lugar donde todos 	 	
sus empleados lo puedan ver!   	 	
Ley Administrativa de Oregon 437-001-257(2)(a).	
Este cartel es gratuito y disponible a través de Oregon OSHA	
—  Es la Ley —	
La Ley de Seguridad en el Trabajo de Oregon de 1973, otorga 
protección de seguridad y salud a los trabajadores mediante 
el fomento de condiciones seguras y saludables en todo el 
estado.  La División de Seguridad y Salud en el Trabajo de 
Oregon (Oregon OSHA) del Departamento de Servicios para 
Consumidores y Negocios, tiene la principal responsabilidad 	 	
de administrar la ley.
Oregon OSHA expide normas de seguridad y salud, y sus 
oficiales de cumplimiento llevan a cabo inspecciones en los 
lugares de trabajo para verificar el cumplimiento de la Ley de 
Seguridad en el Trabajo de Oregon.
Oregon OSHA tiene profesionales capacitados en seguridad 
y salud en el trabajo listos para trabajar con negocios en todas 
las ramas industriales para mejorar la seguridad y salud en los 
centros de trabajo.  Servicios de asesoramiento y capacitación 
son otorgados gratuitamente a negocios de Oregon llamando a 
los números de teléfono abajo mencionados.	
•  Tiene el derecho de notificar a su empleador o a 	
Oregon OSHA sobre peligros en el lugar de trabajo. 
Puede solicitar que Oregon OSHA mantenga su nombre 
confidencialmente.	
• Tiene el derecho de solicitar que Oregon OSHA haga 	
una inspección si usted cree que en su lugar de trabajo 
hay condiciones peligrosas o insalubres. Usted o su 
representante pueden participar en la inspección.	
• Tiene el derecho a reportar una lesión o enfermedad 	
relacionada con el trabajo, sin tener represalias en su 
contra.	
• Si su empleador lo discrimina por presentar una denuncia 	
sobre condiciones de trabajo inseguras o insalubres o 
por ejercer sus derechos bajo la Ley de Seguridad en el 
Trabajo de Oregon, puede presentar una queja con el 
Departamento de Trabajo e Industrias de Oregon en un 
plazo de 90 días, o con la OSHA Federal, en un plazo 	 	
de 30 días.	
• Cualquier persona que desea presentar una queja acerca 	
de la administración de la Ley de Seguridad en el Trabajo 
de Oregon puede ponerse en contacto con:
 	U.S. Department of Labor	
 OSHA Region X
 1111 Third Ave., Suite 715
 Seattle, WA 98101-3212
 206-553-5930	
•  Usted tiene derecho a ver las citaciones que Oregon 	
OSHA haya emitido a su empleador. Su empleador debe 
fijar las citaciones en el lugar de trabajo.	
• Su empleador debe corregir los peligros en el lugar de 	
trabajo dentro del plazo indicado en la citación y debe 
certificar que dichos peligros han sido reducidos o 
eliminados.	
• Usted tiene derecho a obtener copias de su historial 	
médico o de los registros de su exposición a sustancias 
o condiciones tóxicas y dañinas. Adicionalmente, usted 
puede pedir el registro de lesiones y enfermedades de su 
lugar de trabajo.	
• Usted tiene derecho a saber acerca de substancias 	
peligrosas que se usan en su lugar de trabajo.	
Conozca sus derechos
---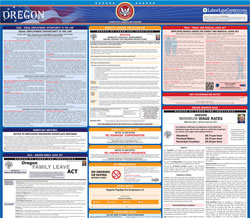 Instead of printing out pages of mandatory Oregon and Federal labor law posters, you can purchase a professional, laminated all-in-one labor law poster that guarantees compliance with all Oregon and federal posting requirements. Fully updated for February 2017!
Get All-In-One Poster Now
More Oregon Labor Law Posters 11 PDFS
Minimum-Wage.org provides an additional ten required and optional Oregon labor law posters that may be relevant to your business. Be sure to also print and post all required state labor law posters, as well as all of the mandatory federal labor law posters.

List of all 11 Oregon labor law posters
---
Oregon Labor Law Poster Sources:
Labor Poster Disclaimer:
While Minimum-Wage.org does our best to keep our list of Oregon labor law posters updated and complete, we provide this free resource as-is and cannot be held liable for errors or omissions. If the poster on this page is out-of-date or not working, please send us a message and we will fix it ASAP.