Safety & Health Poster
Oregon Safety & Health Poster
Mandatory
The Safety & Health Poster is an Oregon job safety law poster provided for businesses by the Oregon Bureau Of Labor and Industry. This is a required poster for all Oregon employers, and any business that fails to post this notification may be subject to penalties or fines.
This is a state labor posting enforced by the Occupational Safety and Health Administration (OSHA) through the state bureau of labor and industries. It is a mandatory posting required of all employers operating within the state. It is a summary of the OSHA of 1970, which provides for job safety and health protection for workers through the promotion of safe and healthful working conditions throughout the state. In the poster are responsibilities of employers as regards safety of employees and their rights as provided for by the Act. The poster also contains provisions of the Act guiding application of complaints and prohibition against any retaliatory action based on such complaints. The poster should be displayed at a conspicuous place where all employees can access.
IT'S 
THE 	
LAW!	
Know your rights	 	
Yo u	 	have a 	 	
right to a safe 	 	
and healthful 	 	
workplace	
1-800-922-2689	
osha.oregon.gov	
FOR MORE INFORMATION, copies 	 	
of the Oregon Safe Employment Act, 	 	
specific safety and health standards, 	 	
advice or assistance, call:
Salem Central Office	 .......	503-378-3272	
Field Offices:
Bend 	 ...............................	541-388-6066	
Eugene	 ............................	541-686-7562	
Medford	 ..........................	541-776-6030	
Pendleton	 ........................	541-276-9175	
Portland	 ..........................	503-229-5910	
Salem 	 ..............................	503-378-3274	
440-1507 (10/16/OR-OSHA)	
Display this poster where all your workers can see it! 	         	
Oregon Administrative Rule 437-001-0275(2)(a).	
This free poster is available from Oregon OSHA	
— It's the law! —	
The Oregon Safe Employment Act of 1973 provides job 	 	
safety and health protection for workers through the 
promotion of safe and healthful working conditions 
throughout the state. The Oregon Occupational Safety 
and Health Division (Oregon OSHA) of the Department 
of Consumer and Business Services has the primary 
responsibility for administering the act.
Oregon OSHA issues occupational safety and health 
standards, and its trained safety and health compliance 
officers conduct job-site inspections to ensure compliance 	 	
with the Oregon Safe Employment Act. 
Oregon OSHA has a staff of trained safety and health 
professionals available to work with businesses in all 
industries to improve workplace safety and health. 
Consultations and training opportunities are available at 	 	
no charge to Oregon businesses by calling any of the 	 	
phone numbers listed.	
• You have the right to notify your employer or 	
Oregon OSHA about workplace hazards. You may 
ask Oregon OSHA to keep your name confidential.	
• You have the right to request an Oregon OSHA 	
inspection if you believe that there are unsafe or 
unhealthy conditions in your workplace. You or your 
representative may participate in the inspection.	
• You have the right to report a work-related injury 	 	
or illness, without being retaliated against.	
• You can file a complaint with the Oregon Bureau of 	
Labor and Industries within 90 days, or with federal 
OSHA within 30 days, of discrimination by your 
employer for making safety and health complaints 
or for exercising your rights under the Oregon Safe 
Employment Act. 	
• 	Anyone who wants to register a complaint about the 
administration of the Oregon Safe Employment Act 
can do so by contacting: 
 	U.S. Department of Labor	
 OSHA Region X
 1111 Third Ave., Suite 715
 Seattle, WA 98101-3212
 206-553-5930	
•  You have a right to see Oregon OSHA citations 	
issued to your employer. Your employer must post 
the citations at the workplace.	
• Your employer must correct workplace hazards 	 	
by the date indicated on the citation and must 
certify that these hazards have been reduced 	 	
or eliminated.	
• You have the right to copies of your medical records 	
or records of your exposure to toxic and harmful 
substances or conditions. Additionally, you may 
request the workplace injury and illness log.	
• You have the right to know about hazardous 	
substances used in your workplace.
---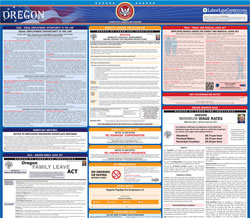 Instead of printing out pages of mandatory Oregon and Federal labor law posters, you can purchase a professional, laminated all-in-one labor law poster that guarantees compliance with all Oregon and federal posting requirements. Fully updated for February 2017!
Get All-In-One Poster Now
More Oregon Labor Law Posters 11 PDFS
Minimum-Wage.org provides an additional ten required and optional Oregon labor law posters that may be relevant to your business. Be sure to also print and post all required state labor law posters, as well as all of the mandatory federal labor law posters.

List of all 11 Oregon labor law posters
---
Oregon Labor Law Poster Sources:
Labor Poster Disclaimer:
While Minimum-Wage.org does our best to keep our list of Oregon labor law posters updated and complete, we provide this free resource as-is and cannot be held liable for errors or omissions. If the poster on this page is out-of-date or not working, please send us a message and we will fix it ASAP.