Unemployment Insurance Poster for Employees
Tennessee Unemployment Insurance Poster for Employees
Mandatory
The Unemployment Insurance Poster for Employees is a Tennessee unemployment law poster provided for businesses by the Tennessee Department Of Labor and Workforce Development. This is a required poster for all Tennessee employers, and any business that fails to post this notification may be subject to penalties or fines.
This poster asserts that under Tennessee Law employers must provide insurance, indeed Tennessee employers pay the full cost of unemployment insurance for their employees, to help protect employees should they become unemployed as a result of circumstances or happenings beyond their control. Should such an unfortunate instance come to pass, citizens may be eligible for benefits if they: One, become separated from employment through no fault of their own.

Two, have qualifying wages in the base period. Three, are available for work and willing to do. Four, engage in job search, without mental reservation or purpose of evasion, at least three times a week. Those who find themselves unemployed may contact the Tennessee Department of Labor and Workforce Development for claims to unemployment insurance, help with finding work, or general questions or concerns in regards to labor and employment.

UNEMPLOYMENT INSURANCE              POSTER FOR EMPLOYEES  Authorization. No. 337386   ______________________________________________________________________________________________________  Your employer provides insurance to help protect you when you become unemployed through no fault of your own. Tennessee employers pay the full cost of unemployment insurance for their employees. Nothing is deducted from your pay to cover the cost of this insurance nor does any money come from State of Tennessee funds.   To be eligible for benefits you must • Be separated from employment through no fault of your own. • Have qualifying wages in the base period. • Be able and available for work. • Search  for  work  by  making  a  minimum of  three  tangible  job  contacts and  documenting  during  weekly certification process. You may log in to www.Jobs4tn.gov to search for work online.  Failure to make three weekly work searches will result in a loss of benefits unless you are job attached, a member of a hiring union, or attending training approved by the Commissioner.  If you become unemployed you may file for benefits at www.Jobs4tn.gov.    Before beginning the claim filing process, you should have your • Social Security Number • Telephone Number • Address • Name of county of residence • Employment data for the last 18 months including employer name and address, and • Bank routing number and bank account number if you elect to receive benefits by direct deposit; otherwise, you will receive benefits on the Way2Go MasterCard.  You must keep your address current with the Department of Labor and Workforce Development.  Go  to www.Jobs4tn.gov to apply  for  unemployment  benefits,  to  file  a wage  protest,  to  file  an  appeal  of  an  agency decision,  to  view/update  information, and  to  view  and  update  your  choice  of  type  of  unemployment  benefit payment.  You  may  log  in  to www.Jobs4tn.gov to  register  and  search  for  work  by  using services  offered  by  our  Tennessee American Job Centers.  The Tennessee Department of Labor and Workforce Development has staff available to help you find a job or pursue training opportunities.  You may go to the Department's website at http://www.tn.gov/workforce/topic/find-local-help to find the location of the most convenient Tennessee American Job Center.  ____________________________________________________________________________________________________________ Please post in a conspicuous place.  The  TN  Department  of  Labor  and  Workforce  Development  is  committed  to  principles  of  equal  opportunity,  equal  access, and  affirmative  action.    Auxiliary aids  and  services  are  available  upon  request  to  individuals  with  disabilities.  Tennessee Relay Service is 711.      (REV. 3/17)
---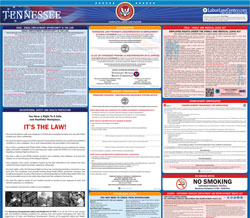 Instead of printing out pages of mandatory Tennessee and Federal labor law posters, you can purchase a professional, laminated all-in-one labor law poster that guarantees compliance with all Tennessee and federal posting requirements. Fully updated for February 2017!
Get All-In-One Poster Now
More Tennessee Labor Law Posters 8 PDFS
Minimum-Wage.org provides an additional seven required and optional Tennessee labor law posters that may be relevant to your business. Be sure to also print and post all required state labor law posters, as well as all of the mandatory federal labor law posters.

List of all 8 Tennessee labor law posters
---
Tennessee Labor Law Poster Sources:
Labor Poster Disclaimer:
While Minimum-Wage.org does our best to keep our list of Tennessee labor law posters updated and complete, we provide this free resource as-is and cannot be held liable for errors or omissions. If the poster on this page is out-of-date or not working, please send us a message and we will fix it ASAP.