A Safe and Healthful Workplace in Tennessee is the Law!
A Safe and Healthful Workplace in Tennessee is the Law! Poster
Mandatory
The A Safe and Healthful Workplace in Tennessee is the Law! is a Tennessee job safety law poster provided for businesses by the Tennessee Department Of Labor and Workforce Development. This is a required poster for all Tennessee employers, and any business that fails to post this notification may be subject to penalties or fines.
This poster details Tennessee's laws on safety and health in the workplace. It declares that the State underwrites health and safety in the workplace, specifically with the Tennessee Occupational Safety and Health Act of 1972. More specifically, citizens in the State of Tennessee have several rights under the law: One, employees have the right, confidentially if they so choose, to notify their employer or the government about a TOSHA violation. Two, employees can request a TOSHA inspection if they believe their workplace to be in violation of the law.

Three, employees can have TOSHA vitiation issued to their employer, which must then be posted publicly. Four, employers cited by TOSHA must correct hazards by the suspense given them by TOSHA when they found themselves cited or risk being shut down by TOSHA. Five, employees have a right to know if they are exposed to dangerous or harmful substances as well as a right to have such exposure be permanently annotated in their medical records. Finally, employees must post all of these rights and standards publicly and shall not willfully prevent any employee from exercising any of these rights.

You Have a Right to a Safe
and Healthful Workplace.	
IT'S THE LAW!	
•		You	have	the	right	to	notify	your	employer	or	TOSHA	about	workplace	hazards.		
You	may	ask	TOSHA	to	keep	your	name	confidential.	
•		You	have	the	right	to	request	a	TOSHA	inspection	if	you	believe	that	there	
are	unsafe	and	unhealthful	conditions	in	your	workplace.	You	or	your	
representative	may	participate	in	the	inspection.	
•		You	can	file	a	complaint	with	TOSHA	within	30	days	of	discrimination	by	your	
employer	for	making	safety	and	health	complaints	or	for	exercising	your	rights	
under	the	TOSHA	Act	or	the	Tennessee	Hazardous	Chemical	Right-to-Know	Act.	
•		You	have	a	right	to	see	TOSHA	citations	issued	to	your	employer.		Your	
employer	must	post	the	citations	at	or	near	the	place	of	the	alleged	violation.	
•		Your	employer	must	correct	workplace	hazards	by	the	date	indicated	on	the	
citation	and	must	certify	that	these	hazards	have	been	reduced	or	eliminated.	
•		You	have	rights	under	the	Tennessee	Right	to	Know	Law	concerning	hazardous	
chemicals	in	your	work	area.		Your	employer	must	provide	training	about	health	
effects,	protective	measures,	safe	handling	procedures,	as	well	as	information	
on	interpreting	labels	and	safety	data	sheets	(SDS).		You	must	be	provided	
access	to	the	safety	data	sheets	and	the	workplace	chemical	list.	
•		You	have	the	right	to	copies	of	your	medical	records	or	records	of	your	
exposure	to	toxic	and	harmful	substances	or	conditions.	
•		Your	employer	must	post	this	notice	in	your	workplace.	
The		Tennessee Occupational Safety and Health Act of 1972	,	T.C.A.	§§	50-3-101	et	seq.,	assures		
safe	and	healthful	working	conditions	for	working	men	and	women	throughout	the	state.		The	
Department	of	Labor	and	Workforce	Development,	Division	of	Occupational	Safety	and	Health	
(TOSHA)	has	the	primary	responsibility	for	administering	the	TOSHA	Act.		The	rights	listed	here	
may	vary	depending	on	the	particular	circumstances.		To	file	a	complaint,	report	an	emergency	
or	seek	TOSHA	advice,	assistance	or	information,	call	800-249-8510	or	your	nearest	TOSHA	office.	
•		Chattanooga	(423)	634-6424		•		Jackson	(731)	423-5640		•		Kingsport	(423)	224-2042		•		Knoxville	
(865)	594-6180		•		Memphis	(901)	543-7259		•		Nashville	(615)	741-2793.			To	file	a	complaint	online	
or	obtain	information	on	Federal	OSHA	and	other	state	programs,	visit	OSHA's	website	at	www.
osha.gov.	For	additional	information	on	TOSHA	visit	www.	http://tn.gov/workforce/section/tosha.
(REV.	3/16)	Authorization	No.	337330
---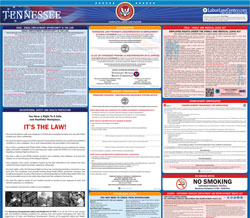 Instead of printing out pages of mandatory Tennessee and Federal labor law posters, you can purchase a professional, laminated all-in-one labor law poster that guarantees compliance with all Tennessee and federal posting requirements. Fully updated for February 2017!
Get All-In-One Poster Now
More Tennessee Labor Law Posters 8 PDFS
Minimum-Wage.org provides an additional seven required and optional Tennessee labor law posters that may be relevant to your business. Be sure to also print and post all required state labor law posters, as well as all of the mandatory federal labor law posters.

List of all 8 Tennessee labor law posters
---
Tennessee Labor Law Poster Sources:
Labor Poster Disclaimer:
While Minimum-Wage.org does our best to keep our list of Tennessee labor law posters updated and complete, we provide this free resource as-is and cannot be held liable for errors or omissions. If the poster on this page is out-of-date or not working, please send us a message and we will fix it ASAP.