Unemployment Insurance Poster for Employees (Spanish)
Tennessee Unemployment Insurance Poster for Employees (Spanish)
Mandatory
The Unemployment Insurance Poster for Employees (Spanish) is a Tennessee unemployment law poster provided for businesses by the Tennessee Department Of Labor and Workforce Development. This is a required poster for all Tennessee employers, and any business that fails to post this notification may be subject to penalties or fines.
This poster asserts, in Spanish, that under Tennessee Law employers must provide insurance, indeed Tennessee employers pay the full cost of unemployment insurance for their employees, to help protect employees should they become unemployed as a result of circumstances or happenings beyond their control. Should such an unfortunate instance come to pass, citizens may be eligible for benefits if they: One, become separated from employment through no fault of their own.

Two, have qualifying wages in the base period. Three, are available for work and willing to do. Four, engage in job search, without mental reservation or purpose of evasion, at least three times a week. Those who find themselves unemployed may contact the Tennessee Department of Labor and Workforce Development for claims to unemployment insurance, help with finding work, or general questions or concerns in regards to labor and employment.

Poster PDF

Spanish Language Poster

Required for All

Unemployment Law
!!!Su empleador proporciona seguro para ayudar a protegerlo cuando se encuentra desempleado por causas ajenas a su voluntad. Los empleadores de Tennessee pagan el total del costo del seguro de desempleo para sus empleados. No se deduce ninguna suma de su salario para cubrir el costo de este seguro y el dinero no proviene de fondos del Estado de Tennessee.  Para ser elegible para beneficios, Ud. tiene que: • Se encuentre desempleado por causas ajenas a su voluntad. • Cuente con salarios elegibles en el período base. • Tenga capacidad y disponibilidad para trabajar. • Busque empleo por medio de un mínimo de tres búsquedas tangibles de empleo y documentarlo durante el proceso de certificación semanal.  Puede ingresar en www.Jobs4tn.gov para hacer una búsqueda de empleo en línea. De no hacer tres búsquedas de empleo semanales traerá como consecuencia la pérdida de beneficios a no ser que sea empleado adjunto, miembro de un sindicato de contrato de trabajo, o asista a capacitación autorizada por el Comisionado.  Si se encuentra desempleado puede presentar una solicitud de beneficios en www.Jobs4tn.gov.  Antes de comenzar el proceso de presentación de la reclamación, debe tener lo siguiente: • Número de Seguridad Social • Número de teléfono • Dirección • Nombre del condado de residencia • Datos de empleo de los últimos 18 meses incluidos el nombre y la dirección del empleador y • El número de cuenta y ruta de su banco si elige recibir beneficios a través de depósito directo; de lo contrario, se depositarán los beneficios a través de Way2Go MasterCard. !Ud. tiene que mantener actualizada su dirección con el Ministerio del Trabajo y Desarrollo de la Fuerza Laboral. !Ingrese  en www.Jobs4tn.gov para  solicitar  beneficios  de  desempleo,  para  presentar  una  protesta  respecto  a  salario,  presentar una  apelación  a  una  decisión  de  la  agencia,  para  ver/actualizar  información,  y  ver  y  actualizar  su  elección  del  tipo  de  pago  del beneficio de seguro de desempleo.  Puede  ingresar  en www.Jobs4tn.gov para  inscribirse  y  buscar  empleo  usando  los  servicios  ofrecidos  por  los  Centros  de Búsqueda  de  Empleo  de  Tennessee.  El  Ministerio  del  Trabajo  y  Desarrollo  de  la  Fuerza  Laboral  de  Tennessee  cuenta  con  el personal disponible a ayudarle a buscar empleo o buscar oportunidades de capacitación.  Puede ingresar en el sitio web del Ministerio en http://www.tn.gov/workforce/topic/find-local-help para buscar el local del Centro de Búsqueda de Empleo de Tennessee más conveniente para usted. !!                                        Anunciar en un lugar visible. !El  Ministerio  del  Trabajo  y  Desarrollo  de  la  Fuerza  Laboral  de  TN  está  comprometido  para  con  los  principios  de igualdad  de  oportunidades,  igualdad  de  acceso  y  acción  afirmativa.   Previa  solicitud,  tenemos  ayudas  y  servicios auxiliares disponibles para las personas con discapacidades.   El Servicio de Retransmisión de Tennessee es 711. !!!!!!!!!!!!!!!!!!!!!!!!!!!!!!!!!!!!Autorización  No. 337386 (Modificado en 4/17) ANUNCIO DE SEGURO DE  DESEMPLEO PARA EMPLEADOS
---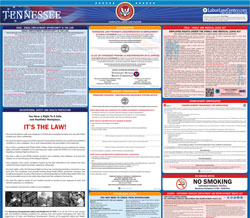 Instead of printing out pages of mandatory Tennessee and Federal labor law posters, you can purchase a professional, laminated all-in-one labor law poster that guarantees compliance with all Tennessee and federal posting requirements. Fully updated for February 2017!
Get All-In-One Poster Now
More Tennessee Labor Law Posters 8 PDFS
Minimum-Wage.org provides an additional seven required and optional Tennessee labor law posters that may be relevant to your business. Be sure to also print and post all required state labor law posters, as well as all of the mandatory federal labor law posters.

List of all 8 Tennessee labor law posters
---
Tennessee Labor Law Poster Sources:
Labor Poster Disclaimer:
While Minimum-Wage.org does our best to keep our list of Tennessee labor law posters updated and complete, we provide this free resource as-is and cannot be held liable for errors or omissions. If the poster on this page is out-of-date or not working, please send us a message and we will fix it ASAP.