Unemployment Insurance Information for the State of Vermont
Unemployment Insurance Information for the State of Vermont Poster
Mandatory
The Unemployment Insurance Information for the State of Vermont is a Vermont unemployment law poster provided for businesses by the Vermont Department Of Labor. This is a required poster for all Vermont employers, and any business that fails to post this notification may be subject to penalties or fines.
This poster details the State of Vermont's standards for unemployment that are codified in State Law. More specifically, employees in the State are covered under laws providing for unemployment insurance for workers in the State of Vermont. Under these laws, employees who become unemployed or whose working hours are reduced to less than full time may be eligible for unemployment benefits.

Those who meet either of these criteria, full unemployment or reduced working hours, are encouraged to contact the Vermont Department of Labor. The poster goes on to list methods by which citizens can contact the Department. In addition, it lists out offices around the State to which people can go for help regarding unemployment insurance, job, search, or training.

UNEMPLOYMENT INSURANCE
BARRE
McFarland State Office Bldg.
5 Perry Street, Suite 200 
Barre, VT 05641  
BENNINGTON
200 Veterans Memorial Drive
Suite 2
Bennington, VT 05201
Telephone: 802-442-6376 BRATTLEBORO 
28 Vernon Street
Suite 212
Brattleboro, VT 05301
 
Telephone: 802-254-4555
BURLINGTON
63 Pearl Street 
Burlington, VT 05401 -4331 
Telephone: 802-863-7676
MIDDLEBURY 
1590 Rte. 7 South, Suite 5
Middlebury, VT 05753
Telephone: 802-388-4921 MORRISVILLE
197 Harrel Street 
Morrisville, VT 05661-
4491 
Telephone: 802-888-4545
NEWPORT
Emory E. Hebard State Of  ce Bldg. 
100 Main Street, Suite 210 
Newport, VT   05855
Telephone:  802-334-6545
RANDOLPH
50 Randolph Avenue  
Randolph, VT 05060  
Telephone: 802-476-2600 
(By appointment only)
RUTLAND
200 Asa Bloomer Building  
Rutland, VT 05701 
Telephone: 802-786-5837
SPRINGFIELD
56 Main Street, Suite 101 
Springfield, VT 05156-2910
Telephone: 802-885-2167 ST. ALBANS
ST. JOHNSBURY
1197
 Main Street
Suite 1
St. Johnsbury, VT 05819  
Telephone: 802-748-3177
WHITE RIVER JUNCTION   
 	
WWW.LABOR.VERMONT.GOV	
If you have become unemployed or 
your work hours have been reduced,  you may be eligible for 
UNEMPLOYMENT BENEFITS	 
Call the 	
Vermont Department of Labor 	
1-877-214-3330	
(toll free)
TTY/Relay Service at 711	
Auxiliary aides and services are available upon  request for individuals with disabilities. 
Interpretive services are also available for  persons with limited English pro  ciency. 	
To learn more about the 
Vermont Department of Labor, 
download a QR code app on 
your smartphone and scan 
this code.	
TDD services at 1-800-650-4152	
118 Prospect Street, Suite 302
Hartford, VT 05047
Telephone: 802-295-8805 27 Federal Street, Suite 100
St. Albans, VT 05478-2246
Telephone: 802-524-6585	
DEPARTMENT OF LABOR	
For free professional help in finding a job, 
an internship or job training opportunities, visit a 
Department of Labor America Job Centers near you!	
A-24 ( 06/18)	
Telephone: 802-476-2600
---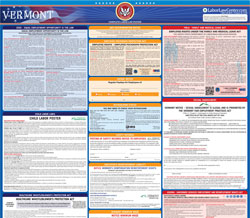 Instead of printing out pages of mandatory Vermont and Federal labor law posters, you can purchase a professional, laminated all-in-one labor law poster that guarantees compliance with all Vermont and federal posting requirements. Fully updated for December 2017!
Get All-In-One Poster Now
More Vermont Labor Law Posters 17 PDFS
Minimum-Wage.org provides an additional sixteen required and optional Vermont labor law posters that may be relevant to your business. Be sure to also print and post all required state labor law posters, as well as all of the mandatory federal labor law posters.

List of all 17 Vermont labor law posters
---
Vermont Labor Law Poster Sources:
Labor Poster Disclaimer:
While Minimum-Wage.org does our best to keep our list of Vermont labor law posters updated and complete, we provide this free resource as-is and cannot be held liable for errors or omissions. If the poster on this page is out-of-date or not working, please send us a message and we will fix it ASAP.