Safety and Health Protection on the Job in Vermont
Safety and Health Protection on the Job in Vermont Poster
Mandatory
The Safety and Health Protection on the Job in Vermont is a Vermont job safety law poster provided for businesses by the Vermont Department Of Labor. This is a required poster for all Vermont employers, and any business that fails to post this notification may be subject to penalties or fines.
This poster details Vermont's laws on safety and health in the workplace. It declares that the State is the foundation of health and safety because it promulgates the laws on which such practices are founded and it underwrites the enforcement of the standards. The poster goes on to note, rather simply and boldly, that everyone has a right to a safe an healthful workplace. Indeed, it declares that Vermont Occupational Safety and Health Code (Title 21 V.S.A. Chapter 3, Sub-Chapters 4 and 5, and the rules adopted therein provide for job safety and health protection of workers.

The poster goes on to list ten basic rights of workers in relation to a safe and healthful workplace. Anyone with questions, comments, concerns, or in need of more information concerning OSHA in the State of Vermont is encouraged, at the close of the poster, to contact Project WorkSAFE, which is a division of the Vermont Department of Labor (contact information is provided on the form).

•  You have the right to notify your employer or VOSHA about work-
place hazards. You may ask VOSHA to keep your name confi dential.
•  You have the right to request a VOSHA inspection if you believe that 
there are unsafe and unhealthful conditions in your workplace.
•  You or your representative may participate in the inspection.
• You can fi le a complaint with VOSHA within 30 days of discrimina-
tion by your employer for making safety and health complaints or 
for exercising your rights under the Vermont Occupational Safety 
and Health Act.
•  You have a right to see VOSHA citations issued to your employer. 
Your employer must post the citations at or near the place of the 
alleged violation.
•  Your employer must correct workplace hazards by the date indicat-
ed on the citation and must certify that these hazards have been 
reduced or eliminated.
•  You have the right to copies of your medical records or records of 
your exposure to toxic and harmful substances or conditions.
•  Your employer must post this notice in your workplace.
•  The Statute provides that employees may not be discharged or dis-
criminated against in any way for fi ling safety or health complaint-
sor otherwise exercising their rights under the Code.
•  The Statute also provides that employees who are discriminated 
against may bring a private action in Superior Court for appropriate 
relief Including reinstatement, triple wages, damages, costs and 
reasonable attorney's fees.
The Occupational Safety and Health Act of 1970 (OSH Act), 
P.L. 91-596, assures safe and healthful working conditions for 
working men and women throughout the Nation. To obtain more 
information on OSHA federal programs, call 1-800-321-OSHA or 
visit OSHA's website at www.osha.gov.
The Vermont Occupational Safety and Health Administration 
(VOSHA), in the Vermont Department of Labor, has the primary 
responsibility for administering the OSH Act in Vermont. To fi le a 
complaint, report an emergency, or seek VOSHA advice or assis-
tance call 1-800-287-2765.
Under a plan approved October 1, 1973, by the U.S. Depart-
ment of Labor, Occupational Safety and Health Administration 
(OSHA), the State of Vermont is providing job safety and health 
protection for workers throughout the State. OSHA will monitor 
the operation of this plan to assure that continued approval is 
merited. Any person may make a complaint regarding Vermont's 
administration of this plan directly to the Occupational Safety 
and Health Administration, John F. Kennedy Federal Building, 
Room E-340, Boston, MA, 02203, Telephone (617) 565-9860.
Safety and Health 
Protection on the Job
The Vermont Occupational Safety and Health Code 
(Title 21 V.S.A. Chapter 3, Sub-Chapters 4 and 5, and 
the rules adopted (there under) provides job safety 
and health protection for workers. 
The purpose of the law is to assure safe and healthful 
working conditions throughout the State.	
You have a 
right to a safe 
and healthy 
workplace.
Further information, including copies 
of the Code and of specifi c safety and 
health standards, may be obtained by 
contacting: 
Project WorkSAFE 
Department of Labor
5 Green Mountain Drive
P. O. Box 488
Montpelier, Vermont 05601-0488
Telephone (888) SAFE-YES
Toll-free at 1-888-723-3937.	
1-800-287-2765
www.labor.vermont.gov	
ASSISTANCE AND INFORMATION:
The plan provides that employers and employees may request free 
voluntary compliance consultative or training assistance, which is 
provided by non-enforcement Project WorkSAFE personnel. 	
IT'S THE LAW!	
(03/14)
---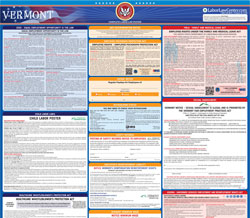 Instead of printing out pages of mandatory Vermont and Federal labor law posters, you can purchase a professional, laminated all-in-one labor law poster that guarantees compliance with all Vermont and federal posting requirements. Fully updated for December 2017!
Get All-In-One Poster Now
More Vermont Labor Law Posters 17 PDFS
Minimum-Wage.org provides an additional sixteen required and optional Vermont labor law posters that may be relevant to your business. Be sure to also print and post all required state labor law posters, as well as all of the mandatory federal labor law posters.

List of all 17 Vermont labor law posters
---
Vermont Labor Law Poster Sources:
Labor Poster Disclaimer:
While Minimum-Wage.org does our best to keep our list of Vermont labor law posters updated and complete, we provide this free resource as-is and cannot be held liable for errors or omissions. If the poster on this page is out-of-date or not working, please send us a message and we will fix it ASAP.