Crime Victims Leave Poster
Vermont Crime Victims Leave Poster
The Crime Victims Leave Poster is a Vermont general labor law poster poster provided for businesses by the Vermont Department Of Labor. This notification is required for some employers, such as all employers.
Poster PDF

Required for Some

General Labor Law Poster
Employment Protections for Victims of Crime	
Notice of Employee Rights 	
WHAT IS THE LAW? 	
Under Vermont law, crime victims 
are protected from harassment or 
other discrimination by employers 
based on their status as a crime 
victim.  Employers are also 
required to provide crime victims 
with job	-protected, unpaid leave to 	
attend certain legal proceedings 
relating to the crime.	
WHO IS A CRIME VICTIM? 	
Under the law, a "crime victim" is a 
person who has:
•	Obtained a relief from abuse 
order against a family or 
household member; 	
•	Obtained a court order against 
stalking or sexual assault	;	
•	Obtained a court order against 
abuse of a vulnerable adult	;or	
•	Sustained physical, emotional or 
financial injury as the direct 
result of a crime, and is identified 
as a crime victim in an affidavit 
filed by law enforcement.	
EFFECTIVE AS OF: 	
July 1, 2018	
EMPLOYEE RIGHTS 	
Employees who are crime victims 
have the right to take unpaid leave to 
attend:
•	Criminal proceedings  where the 
employee has a legal right or 
obligation to appear at the 
proceeding;	
•	Relief from abuse hearings and 
neglect or exploitation hearings 
under when the employee is a 
plaintiff; or	
•	Hearings concerning an order 
against stalking or sexual assault.	
While on crime victim leave, 
employees may use any accrued sick 
leave, vacation leave, or any other 
paid leave.  Employees must 
continue to receive employment 
benefits while on leave, and have the 
right to return to their same job or a 
comparable position upon return.	
FOR MORE INFORMATION:
VERMONT ATTORNEY GENERAL	
CIVIL RIGHTS UNIT	
109 State St., Montpelier, VT 05062
888	-745	-9195 OR 802	-828	-3657	
[email protected]	
HUMAN RIGHTS COMMISSION
14	-16 Baldwin St., Montpelier, VT 05062
800	-416	-2010 OR 802	-828	-2480	
www.hrc.Vermont.gov
---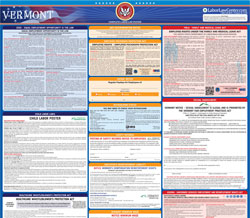 Instead of printing out pages of mandatory Vermont and Federal labor law posters, you can purchase a professional, laminated all-in-one labor law poster that guarantees compliance with all Vermont and federal posting requirements. Fully updated for December 2017!
Get All-In-One Poster Now
More Vermont Labor Law Posters 17 PDFS
Minimum-Wage.org provides an additional sixteen required and optional Vermont labor law posters that may be relevant to your business. Be sure to also print and post all required state labor law posters, as well as all of the mandatory federal labor law posters.

List of all 17 Vermont labor law posters
---
Vermont Labor Law Poster Sources:
Labor Poster Disclaimer:
While Minimum-Wage.org does our best to keep our list of Vermont labor law posters updated and complete, we provide this free resource as-is and cannot be held liable for errors or omissions. If the poster on this page is out-of-date or not working, please send us a message and we will fix it ASAP.