Public Employees Chemical Right to Know Act
Arkansas Public Employees Chemical Right to Know Act Poster
The Public Employees Chemical Right to Know Act is an Arkansas job safety law poster provided for businesses by the Arkansas Department Of Labor. This notification is required for some employers, such as all state, county and municipal employers.
This mandatory poster is a informative posting concerning the rights of public employees in handling chemicals. It clearly outlines the duties of public employers' which includes proper posting, handling, labeling, and tracking of all hazardous chemicals used and stored. Instructions for how complaints and investigations are also included.
ARKANSAS DEPARTMENT OF LABOR AND LICENSING
 
NOTICE  TO EMPLOYER AND EMPLOYEE
Act 556 of 1991 entit led the 
PUBLIC EMPLOYEES' CHEMICAL RIGHT TO KNOW ACT PURPOSE  	
  The purpose of this law is to provide public employees 
access to training and inform ation concerning hazardous 
chemicals in order to enable them to minimize their exposure 
to such chemicals and protect their health, safety and welfare. 	
PUBLIC EMPLOYERS' DUTIES  	
  Public employers are responsible for the following as set 
out by the law: 
1. Post adequate notice to inform employees of their rights
2.	

Ensure proper chemi	

cal labeling
a. Existing labels on cont ainers of hazardous chemicals are
not to be removed 
b. If  a  chemical  is  transf erred to another container, it must
also be labeled with the name and appropriate 
warnings, as provided in this law 
c. A public employer is not required to label chemicals that have been transferred to a portable container by an 
employee when that employee is going to 
immediately use the chemical. 
3. Maintain and make material safety data sheets available a. Chemical manufacturers and distributors must provide public employers with the appropriate MSDSs within 
the prescribed times 
b. Public  employers  must  maintain current copies of each
MSDS and have them available to employees and 
their designated representatives upon request within 
the prescribed time 
c. The  employer  must  not require an employee to work
with a chemical until a MSDS can be furnished 
except as indicated by this law 
d. An employee who declin es to work with a chemical may
not be penalized 
e. Public employers shall provide a copy of MSDSs to the Director of Labor upon request 
4. Compile and maintain  a workplace chemical list for
hazardous chemicals used, generate d, or stored in amounts of 
55 gallons or 500 pounds or more  a. The Workplace Chemical List must show the chemical or common name used on the MSDS and/or the 
container label, the Chem ical Abstracts Service 
Number and the work area where it will normally be 
used, generated, or stored 
b. Chemical lists shall be filed with the Director of Labor no later than October 14, 1991, updated when 
necessary, and refiled July 1 of each year 
5. Provide employees with information and training a. The Director of Labor is responsible for maintaining a general information and training assistance program 
to aid public employers 
b. Additional training must be provided when a new hazard is introduced, when new information is received, or 
before new employees are assigned to a job 
c. Information  and  training  programs  must  meet  the requirements specified in the law and in the 
regulations of the Director of Labor. 
d. Information and training  programs must be developed by  January 15, 1992, a nd initial information and 
training must be provided prior to July 15, 1992. 
Employers must keep a record of the dates of 
training sessions given to their employees. 
e. The Director of Labor's rules and regulations concerning refresher training and training exemptions must be 
followed  6. Handle trade secrets in acco
rdance with provisions set out
in the law 
a. The Director of Labor can request data substantiating a trade  secret claim when asked to by an employee, 
designated representative, or public employer 
b. All information will be kept confidential	PUBLIC EMPLOYEES' RIGHTS  
Public employees who may be exposed to hazardous 
chemicals m	 ust be informed and shall have access to the 
Workplace Chemical List, MSDSs for the chemicals on the 
list, and information and training as provided in this act. 	
A public employee cannot be disciplined, discharged  o
r  discriminated  against  for  requesting  information,  filing 
a  complaint,  assisting  an  inspector  of  the  Department  of 
Labor	

  and  Licensing,  causing 	
any  complaint  or 
pro	
ceeding to be instituted,  testifying 	
in any proceeding, 
or exercising any right afforded by 	
this law. 	
Any	
  waiver of the benefits or requirement of this law 
are a violation and are therefore null and void. 	
COMPLAINTS AND INVESTIGATIONS  	
The Director of the Department of Labor will 
investigate written and oral comp	 laints from public employees 
concerning violations of this law.  The Director or his 
designated representative has the authority to enter the 
workplace and conduct a thor ough investigation of the 
complaint as specified by this law. 	
ENFORCEMENT 	
If the Director of Labor finds a public employer in 
violation of this law, he shall issue an order to cease and desist 
the act o	
r omission constituting the violation. If the Director of Labor finds that a public employer 
has failed to provide the required information and training by 
the prescribed time, he may conduct the program and charge 
the employer for the costs incurred.  Violation of this act shall be cause for adverse 
personnel action against the responsible supervisor as set out 
in this act. 	
CAUSE OF ACTION - ATTORNEY FEES  	
Any citizen denied their rights under this law may 
comm	 ence civil action in circuit  court and the court shall hear 
the petition within seven days.  The court shall have the jurisdiction to restrain 
violations of this act and to order all appropriate relief.  Those 
who refuse to comply with these orders will be in contempt of 
court.  Attorney fees and court costs will be assessed to the 
defendant and plaintiff as set out by the law. 	
NO EFFECT ON OTHER LEGAL DUTIES  	
The provision of information to a public employee 
do	 es not affect the liability of the employer with regard to the 
health and safety of the employee, or the employer's 
responsibility to prevent the  occurrence of occupational 
disease.  The provision of information to an employee also 
does not affect any other duty or  responsibility of a chemical 
manufacturer or distributor to  warn users of a hazardous 
chemical.  ARKANSAS DEPARTMENT 	
OF
L	
AB	OR 	AND 
L	ICENSING 9	
00  West Capitol Avenue; Suite 400
Little Rock, Arkansas 72201   PH. (50
1) 682-4500  
  	

EMPLOYERS ARE REQUIRED TO POST THIS  NOTICE IN A CONSPICUOUS PLACE
---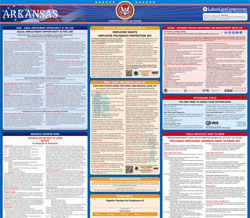 Instead of printing out pages of mandatory Arkansas and Federal labor law posters, you can purchase a professional, laminated all-in-one labor law poster that guarantees compliance with all Arkansas and federal posting requirements. Fully updated for September 2017!
Get All-In-One Poster Now
More Arkansas Labor Law Posters 6 PDFS
Minimum-Wage.org provides an additional five required and optional Arkansas labor law posters that may be relevant to your business. Be sure to also print and post all required state labor law posters, as well as all of the mandatory federal labor law posters.

List of all 6 Arkansas labor law posters
---
Arkansas Labor Law Poster Sources:
Labor Poster Disclaimer:
While Minimum-Wage.org does our best to keep our list of Arkansas labor law posters updated and complete, we provide this free resource as-is and cannot be held liable for errors or omissions. If the poster on this page is out-of-date or not working, please send us a message and we will fix it ASAP.