Workers' Compensation Act (Spanish)
Colorado Workers' Compensation Act (Spanish) Poster
The Workers' Compensation Act (Spanish) is a Colorado general labor law poster poster provided for businesses by the Colorado Department Of Labor and Employment. This is an optional notification, so while it is recommended that businesses hang this poster if relevant to their employees, it is not required by the Department Of Labor and Employment.
Poster PDF

Spanish Language Poster

Optional Poster

General Labor Law Poster
COLORADO 
DEPARTMENT OF LABOR AND EMPLOYMENT
DIVISION  OF WORKERS'  COMPENSATION
Información De Indemnización Por Accidentes Laborales De Colorado 
Su empleador tiene cobertura de indemnización por accidentes la borales para empleados completamente: 
La i n	
demnización por accidentes laborales es  u	n tipo de cobertura de seguro que los empleadores deben 
p	
roveer a sus empleados. El coste del seguro  d	e indemnización por accidentes laborales es p	agado 
completamente por el empleador y no  p	
uede ser d	educido de los sueldos de un empleado. 
Si usted sufrió un accidente o mantiene	
  u	
na enfermedad profesional en su trabajo, usted puede calificar 
p	
ara los beneficios de compensación.  Usted tiene la obligación de NOTIFICAR POR ESCRITO A  SU 
EMPLEADOR DENTRO DE 4 DÍAS	
  DEL ACCIDENTE. Si usted no informa sobre su accidente o 
enfermedad profesional inmediatamente sus	

  b
eneficios podrían ser reducidos. 
Si usted no puede trabajar por el resultado  d
e su accidente de trabajo o la enfermedad p	rofesional, los 
b	
eneficios de compensación serán pagados sobr	e  la base  d	e 2/3 de su sueldo semanal hasta  u	n máximo 
fijado por ley. Los primeros 3  d	
ias no son cubiertos por la aseguranza.
Usted está autorizado para el tratamiento médico que sea razonable y necesario  si usted sufrió lesiones en 
el trabajo o  enfermedades profesionales.  Si usted notifica a su empleador sobre una	
  lesión o la enfermedad 
p
rofesional y no le ofrecen atención  médica  adecuada,	  u	sted puede seleccionar los servicios  d	e o	tro médico 
q	
ue tenga licencia o que sea quiropráctico. 
Usted puede reportar su propio reclamo	
  si su empleador no lo ha hecho. Para obtener formularios o 
información acerca de accidentes laborales  usted puede puede llamar al servicio de asistencia al  numero 
303-318-8700 o sin costo a 1-888-390-7936 o visitar  nuestro sitio web en
www.colorado.gov/cdle/dwc	

.
COLORADO DEPARTMENT OF LABOR AND EMPLOYMENT 6	
33 17th St. Suite 40	0, Denver, CO 80202-3660  
Cualquier información proveída abajo viene directamente de su empleador y es exclusivo de este 
lugar del empleo: 

WC49B Rev 0/19 

Página 1 de 1
---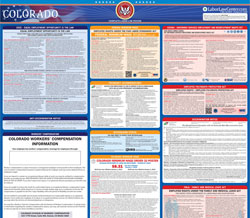 Instead of printing out pages of mandatory Colorado and Federal labor law posters, you can purchase a professional, laminated all-in-one labor law poster that guarantees compliance with all Colorado and federal posting requirements. Fully updated for December 2017!
Get All-In-One Poster Now
More Colorado Labor Law Posters 21 PDFS
Minimum-Wage.org provides an additional twenty required and optional Colorado labor law posters that may be relevant to your business. Be sure to also print and post all required state labor law posters, as well as all of the mandatory federal labor law posters.

List of all 21 Colorado labor law posters
---
Colorado Labor Law Poster Sources:
Labor Poster Disclaimer:
While Minimum-Wage.org does our best to keep our list of Colorado labor law posters updated and complete, we provide this free resource as-is and cannot be held liable for errors or omissions. If the poster on this page is out-of-date or not working, please send us a message and we will fix it ASAP.