Notice of Paydays Poster
Colorado Notice of Paydays Poster
The Notice of Paydays Poster is a Colorado miscellaneous law poster provided for businesses by the Colorado Department Of Labor and Employment. This notification is required for some employers, such as employers that can conspicuously post this poster.
This mandatory notice is a fill-in notice for when and where pay will occur at a particular business.
COLORADO DEPARTMENT OF LABOR AND EMPLOYMENT 
DIVISION OF LABOR 
www.colorado.gov/cdle/labor  	
 
This form is provided as a courtesy by the Colorado  Division of Labor. Other Notice of Paydays Posters 
may be acceptable provided that they  contain the elements and information required by 8-4-107, C.R.S.  	
 	
NOTICE OF PAYDAYS 	
 
 
In accordance with 8-4-107, C.R.S.: 
Every employer shall post and keep post ed conspicuously at the place of 
work if practicable, or  otherwise where it can be  seen as employees come 
or go to their places of work, or  at the office or nearest agency for 
payment kept by the employer a not ice specifying the regular paydays and 
the time and place of payment, in a ccordance with the provisions of 
section 8-4-103, and also any changes  concerning them that may occur 
from time to time. 
 
Pay periods can be no greater duration than a  calendar month or 30 days, whichever is 
longer. Paydays must occur no later than 10 days following the close of each pay 
period. 8-4-103, C.R.S. 
 
 
 
 	
EMPLOYEES ARE PAID ON REGULAR PAYDAYS AS FOLLOWS: 	
 
 
 
 
Time: 
 
 
 
 
Place:
---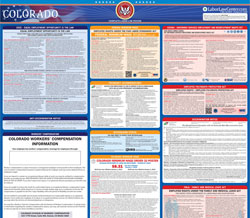 Instead of printing out pages of mandatory Colorado and Federal labor law posters, you can purchase a professional, laminated all-in-one labor law poster that guarantees compliance with all Colorado and federal posting requirements. Fully updated for October 2017!
Get All-In-One Poster Now
More Colorado Labor Law Posters 21 PDFS
Minimum-Wage.org provides an additional twenty required and optional Colorado labor law posters that may be relevant to your business. Be sure to also print and post all required state labor law posters, as well as all of the mandatory federal labor law posters.

List of all 21 Colorado labor law posters
---
Colorado Labor Law Poster Sources:
Labor Poster Disclaimer:
While Minimum-Wage.org does our best to keep our list of Colorado labor law posters updated and complete, we provide this free resource as-is and cannot be held liable for errors or omissions. If the poster on this page is out-of-date or not working, please send us a message and we will fix it ASAP.