Notice to Employer of Injury
Colorado Notice to Employer of Injury
The Notice to Employer of Injury is a Colorado workers compensation law poster provided for businesses by the Colorado Department Of Labor and Employment. This is an optional notification, so while it is recommended that businesses hang this poster if relevant to their employees, it is not required by the Department Of Labor and Employment.
This mandatory notice is a large-print statement basically reminding employees to follow procedures within a certain timeframe. Spanish instructions are on the back.
Poster PDF

Bilingual Poster

Optional Poster

Workers Compensation Law
WC50 Rev.5/99 	
 
WARNING 	
IF YOU ARE INJURED ON THE JOB, WRITTEN NOTICE OF 
YOUR INJURY MUST BE GIVEN TO YOUR EMPLOYER 
WITHIN FOUR WORKING DAYS AFTER THE ACCIDENT, 
PURSUANT TO SECTION 8-43-102(1) AND (1.5), 
COLORADO REVISED STATUTES. 
 
IF THE INJURY RESULTS FROM YOUR USE OF ALCOHOL 
OR CONTROLLED SUBSTANCES, YOUR WORKERS' 
COMPENSATION DISABILITY BENEFITS MAY BE REDUCED 
BY ONE-HALF IN ACCORDANCE WITH SECTION  
8-42-112.5, COLORADO REVISED STATUTES.

WC50 Rev.5/99 	
 	
AVISO	 	
SI SE LASTIMA EN EL TRABAJO, DEBE DARLE UN AVISO 
POR ESCRITO A SU EMPLEADOR DENTRO DE CUATRO 
DÍAS LABORABLES DEL ACCIDENTE, SEGÚN A LA 
SECCIÓN DE LOS ESTATUOS REVISADOS DE COLORADO 
8-43-102(1) Y (1.5). 
 
SI EL ACCIDENTE RESULTA DEBIDO AL USO DE ALCOHOL 
O UNA SUSTANCIA CONTROLADA, SUS BENEFICIOS DE 
LA INCAPACIDAD DE LA COMPENSACIÓN DE LOS 
TRABAJADORES PUEDEN SER REDUCIDOS POR UN MEDIO 
EN ACUERDO DE LA SECCIÓN DE LOS ESTATUOS 
REVISADOS DE COLORADO 8-42-112.5.
---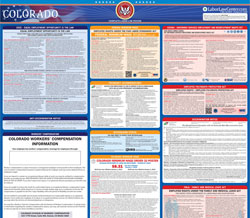 Instead of printing out pages of mandatory Colorado and Federal labor law posters, you can purchase a professional, laminated all-in-one labor law poster that guarantees compliance with all Colorado and federal posting requirements. Fully updated for December 2017!
Get All-In-One Poster Now
More Colorado Labor Law Posters 21 PDFS
Minimum-Wage.org provides an additional twenty required and optional Colorado labor law posters that may be relevant to your business. Be sure to also print and post all required state labor law posters, as well as all of the mandatory federal labor law posters.

List of all 21 Colorado labor law posters
---
Colorado Labor Law Poster Sources:
Labor Poster Disclaimer:
While Minimum-Wage.org does our best to keep our list of Colorado labor law posters updated and complete, we provide this free resource as-is and cannot be held liable for errors or omissions. If the poster on this page is out-of-date or not working, please send us a message and we will fix it ASAP.