When to Wash Your Hands - Food Safety
Colorado When to Wash Your Hands - Food Safety Poster
The When to Wash Your Hands - Food Safety is a Colorado food service poster provided for businesses by the Colorado Department Of Labor and Employment. This is an optional notification, so while it is recommended that businesses hang this poster if relevant to their employees, it is not required by the Department Of Labor and Employment.
When to Wash Your Hands	 	
 	After touching face, hair or other exposed skin	 	
 	After handling fish or shellfish in aquariums	 	
 	Upon entering food and beverage preparation areas	 	
 	Between tasks (i.e., handling raw eggs then putting 
on gloves to handle toast)	 	
 	After use the restroom	 	
 	After smoking, eating, or drinking	 	
 	Before putting on disposable gloves	 	
 	After handling or caring for animals	 	
 	After coughing or sneezing	 	
 	After cleaning or taking out the trash
---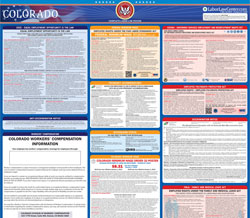 Instead of printing out pages of mandatory Colorado and Federal labor law posters, you can purchase a professional, laminated all-in-one labor law poster that guarantees compliance with all Colorado and federal posting requirements. Fully updated for October 2017!
Get All-In-One Poster Now
More Colorado Labor Law Posters 21 PDFS
Minimum-Wage.org provides an additional twenty required and optional Colorado labor law posters that may be relevant to your business. Be sure to also print and post all required state labor law posters, as well as all of the mandatory federal labor law posters.

List of all 21 Colorado labor law posters
---
Colorado Labor Law Poster Sources:
Labor Poster Disclaimer:
While Minimum-Wage.org does our best to keep our list of Colorado labor law posters updated and complete, we provide this free resource as-is and cannot be held liable for errors or omissions. If the poster on this page is out-of-date or not working, please send us a message and we will fix it ASAP.