Workers' Compensation Act
Colorado Workers' Compensation Act Poster
The Workers' Compensation Act is a Colorado workers compensation law poster provided for businesses by the Colorado Department Of Labor and Employment. This is an optional notification, so while it is recommended that businesses hang this poster if relevant to their employees, it is not required by the Department Of Labor and Employment.
This mandatory poster is a fill-in form for employers to write their workers' compensation coverage information. It also reminds employees about their entitlements through their employer and where claims may be filed.
Poster PDF

Optional Poster

Workers Compensation Law
COLORADO DEPARTMENT OF LABOR AND EMPLOYMENT
DIVISION OF WORKERS' COMPENSATION
Colorado Workers' Compensation Information Your employer has 
workers' compensation coverage for employees through: 
Workers' compensation is a type of insurance coverage that employers must provide to their 
employees.  The cost of workers' compensation insurance is paid entir ely 	by the employer and	 
may not be deducted from an employee's wages.   
If you are injured or sustain an occu	
pational disease while at work, you may be entitled to 
compensation benefits as 	
provided by law. WRITTEN 	NOTICE MUST BE GIVEN TO 
YOUR EMPLOYER WITHIN 4 WORKING DAYS OF THE AC	
CIDENT.	 If you don't report 
y	
our injury or occupational disease p	ro	mptly your benefits may b	e reduced.  
If you are unable to work as the result of a work-related injury or
 occupational disease, 
compensation (wage replacemen t) benefits will be based on 2/3	
 of 	your average weekly wage 
u	
p to a maximum set by law.	 No	 compensation is payable fo	r the first 3 days' d	isability unless 
the period of disability exceeds two weeks. 
You are entitled to r easonable and necessary medical treatment of compensable injuries or 
o	
ccupational diseases. If you n	otif	y your employer of an injury or	 occupational disease and	 are 
n	
ot offered medical care, you may select the services of a licensed physician or chiropractor. 
You	
 may	 file a Worker's Claim for Compen sation with the Division of Wo	rkers' 
Compensation. To obtain forms or information regarding the workers' compensation system, 
y	
ou may call Customer Ser	vice at 303-318-8700 or toll-free at 1-88	8-390-7936 or visit our 
web	
site 	at 	www.colorado.gov/cdle/dwc.
COLORADO  DIVISION OF  WORKERS' COMPENSATION 
6	
33 17 th
 Street, Suite 400, Denver, CO 80202-3626
Any informatio	
n provided below comes from  y	our employer and is specific to this place 
o	
f employment: 

WC49 Rev 05/19 

Page 1 of 1
---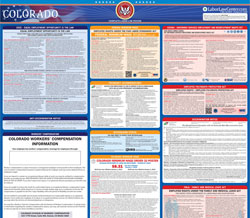 Instead of printing out pages of mandatory Colorado and Federal labor law posters, you can purchase a professional, laminated all-in-one labor law poster that guarantees compliance with all Colorado and federal posting requirements. Fully updated for October 2017!
Get All-In-One Poster Now
More Colorado Labor Law Posters 21 PDFS
Minimum-Wage.org provides an additional twenty required and optional Colorado labor law posters that may be relevant to your business. Be sure to also print and post all required state labor law posters, as well as all of the mandatory federal labor law posters.

List of all 21 Colorado labor law posters
---
Colorado Labor Law Poster Sources:
Labor Poster Disclaimer:
While Minimum-Wage.org does our best to keep our list of Colorado labor law posters updated and complete, we provide this free resource as-is and cannot be held liable for errors or omissions. If the poster on this page is out-of-date or not working, please send us a message and we will fix it ASAP.