Paid Family Leave Notice
District of Columbia Paid Family Leave Notice
Mandatory
The Paid Family Leave Notice is a District of Columbia family leave law poster provided for businesses by the District of Columbia Office Of Human Rights. This is a required poster for all District of Columbia employers, and any business that fails to post this notification may be subject to penalties or fines.
GOVERNMENT OF THE DISTRICT OF COLUMBIA 
Department of Employment Services  	
 	
M	URIEL 	BOWSER	 	 	UNIQUE	 MORRIS	-HUGHES	 	
M	AYOR	 	 	INTERIM 	DIRECTOR	 	
 	
 
Public Notice to District of Columbia Employers   
And Employees for  Paid Family Leave  
 
Notice is hereby given that, pursuant to t he Universal Paid Leave Amendment Act of 
2016  ("Paid Leave Act") , all covered employers will be  required to  contribute an amount 
equal to 0. 62% of the wages of each of its covered employees to the Univ ersal Paid 
L eave Implementation Fund  by July 1, 2019. Contributions will be collected  
electronically  by payroll tax  from the Departm ent of Employment Services (DOES ), 
Office of Paid Family Leave (OPFL), on  a quarterly basis .  
 	
Covered Employee 
A covered employee is any worker of a covered employer who spends more than 50% 
of his or her work time for that  employer working in the District of Columbia; or whose 
employment for the covered employer is based in the District and who regularly spends 
a substantial amount of his or her work time for that c overed employer in the District and 
not more than 50% of hi s or her work time for that covered employer in another 
jurisdiction . 
 
Covered Employer  
A covered employer is any individual, partnership, general contractor, subcontractor, 
association, corporation, business trust, or any group of persons who directly or 
indirectly or through an agent or any other person, including through the serv ices of a 
temporary services or staffing agency or similar entity, employs or exercises control 
ov er the wages, hours, or working conditions of an employee and is required to pay 
unemployment insurance on behalf of its  employee.  A covered employer is also a self -
employed individual who has opted into the paid- leave program established pursuant to 
the Paid Leave Act . 
 
All communications with covered employers, cov ered employees, applicants, eligible 
individu als, health care providers, claims examiners , and DOES OPFL will  occur by 
phone, email, and through the online portal on or  after July 1, 2019. For more 
information on the implementation of the  Paid Family Leave (PFL) program, please visit 
does.dc.gov	
.  	
 
Comments on this notice and  any request for information should be addressed to:  
 
Department of Employment Services  
Office of Paid Family  Leave 
4058 Minnesota Ave. NE   
Washington, DC 20019  
[email protected]
---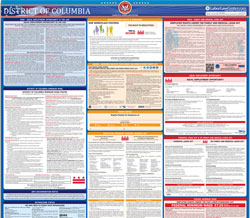 Instead of printing out pages of mandatory District of Columbia and Federal labor law posters, you can purchase a professional, laminated all-in-one labor law poster that guarantees compliance with all District of Columbia and federal posting requirements. Fully updated for April 2017!
Get All-In-One Poster Now
More District of Columbia Labor Law Posters 23 PDFS
Minimum-Wage.org provides an additional 22 required and optional District of Columbia labor law posters that may be relevant to your business. Be sure to also print and post all required state labor law posters, as well as all of the mandatory federal labor law posters.

List of all 23 District of Columbia labor law posters
---
District of Columbia Labor Law Poster Sources:
Labor Poster Disclaimer:
While Minimum-Wage.org does our best to keep our list of District of Columbia labor law posters updated and complete, we provide this free resource as-is and cannot be held liable for errors or omissions. If the poster on this page is out-of-date or not working, please send us a message and we will fix it ASAP.